Military aid to Ukraine 'not ruled out' – UK Foreign Sec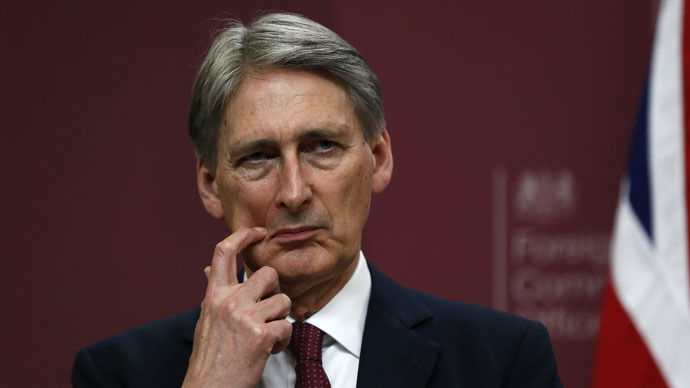 The UK will keep under review its decision not to arm the Ukrainian army in its fight against rebels, the Foreign Secretary announced on Tuesday.
Philip Hammond said the UK could not allow the Ukrainian armed forces to collapse due to a lack of international resources.
"It is a national decision of each country in the NATO alliance to decide whether to supply lethal aid to Ukraine," Hammond told Parliament. "The UK is not planning to do so, but we reserve the right to keep this position under review."
"We share a clear understanding that while there is no military solution to this conflict we could not allow the Ukrainian armed forces to collapse," he said.
The Foreign Secretary's comments come as the leaders of Ukraine, Russia, France and Germany prepare to hold peace talks in Minsk on Wednesday, with the aim of ending months of fighting in the region.
Russia denies providing military assistance to separatist rebels currently fighting Ukrainian troops.
READ MORE:Obama, Merkel display 'tactical disagreements' over Ukraine
Speaking to the House of Commons, Hammond said all members of NATO had the right to make different decisions.
"Different members of the alliance take nuanced positions on this question and are entitled to do so. However, we share a clear understanding that while there is no military solution to this conflict we could not allow the Ukrainian armed forces to collapse."
He added that European sanctions on Russia would not be "let up" unless there was "clear evidence of changed Russian behavior," adding "the proof of the pudding will be in actions on the ground."
Following talks with German Chancellor Angela Merkel in Washington on Monday, President Obama said the US would be looking "at all options" to resolve the crisis, which could include providing weapons to Ukraine.
Hammond's comments come as former Defense Secretary Liam Fox told the BBC that more needed to be done to tackle the crisis, because "appeasement has a very bad track record."
READ MORE:Ex-Italian PM Monti: Europe can't appear to be 'tool of US interests'
The Conservative MP claimed all previous assurances given by President Putin had "turned out to be utterly worthless," adding the Ukrainians needed a greater military capability.
"Either we allow Ukraine to be dismembered by a very aggressive Russian neighbor, or we give the Ukrainians some ability to stand up to the sort of weapons that are being used against them," he said.
"That really means giving them drones … an anti-tank capability and encrypted communications," he added.
When asked whether he thought a peaceful solution could be reached during the talks at Minsk, he said any solution reached must be "credible, sustainable and viable" or it would not benefit the Ukrainians.
Moscow has always rejected accusations of military involvement in Ukraine, and says it will not accept any negotiating ultimatums from the West.
"The Ukrainian crisis was not caused by the Russian Federation. It emerged in response to the attempts of the US and its Western allies – who consider themselves 'winners' of the Cold War – to impose their will everywhere," Putin said in a recent interview with Al-Ahram.
You can share this story on social media: