2,000 UK troops, RAF spy plane bound for Jordan to combat ISIS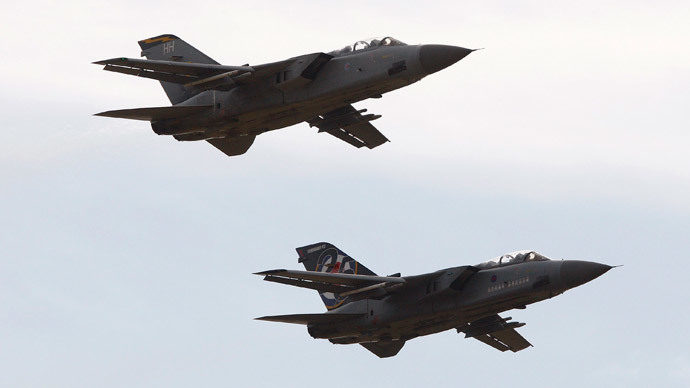 The UK will send 2,000 specialist troops and a spy plane to Jordan to aid its efforts to defeat the Islamic State (IS, formerly ISIS/ISIL), a government source has revealed.
The decision follows criticism from the Commons Defence Select Committee that the UK was not committing sufficient troops or resources to the area.
An initial group of 60 military planners will join a coalition HQ in Jordan, which will be used to co-ordinate support of Kurdish and Iraqi troops, followed by a further 2,000 who will mainly act in a training capacity, the source told the Express.
The UK's increased involvement follows Jordan's decision to extend airstrikes from Syria to Iraq.
The RAF Sentinel R1 spy plane will be used to identify potential targets for coalition airstrikes on IS positions. Royal Artillery drones and electronic jammers from the Royal Signals are expected to be in place by April.
Senior military sources claim the forthcoming election was taking precedence over making defense decisions in the Middle East, but claimed troops would be ready to deploy "shortly."
"We will shortly be in a position to deploy as many as 2,000 troops mainly in a training capacity," one source said. "Though a proportion will be ready for force protection purposes if that decision is taken."
Select committee member Colonel Bob Stewart said there was "only one way to deal with people who behave in the most monstrous way under a masquerade for religious duty."
The increased commitment comes after the Commons Defence Select Committee said the UK can and should be playing a greater role in resisting ISIS, branding current efforts "strikingly modest."
In a report published on February 5, it was revealed only three British military personnel were operating outside the Kurdish region.
The report said the UK has the military capability, expertise and resources to make a greater contribution in the fight against IS, including support for Iraqi forces, and can also play a role in encouraging a political solution.
It further called the Islamic State's recent acquisition of swathes of northern Iraq a "nightmare."
READ MORE:'Britain should do more to fight ISIS' - Defence Committee
The terror group is responsible for the murder of captive Jordanian pilot Muath al-Kasasbeh after negotiations to secure his release broke down. His death was announced with the release of a video on February 3, which showed the pilot being burned to death.
The Defence Committee said the unwillingness of military chiefs to provide a clear and articulate statement of the UK's strategic plan in Iraq was "shocking." They accused them of a lack of clarity over who was in charge of the policy, and questioned whether such a policy even existed.
Defence Secretary Michael Fallon had previously promised to send "hundreds" of troops to the area.
The decision has been met with criticism from some pacifist groups, howeve, who said on Monday afternoon that sending troops to the Middle East would invariably take the UK another step closer to war.
Chris Nineham, from Stop the War Coalition said the move was more likely to spread terrorism that avert it.
"If we don't learn the recent history we will keep repeating it, with disastrous results. The military interventions of the last few years have spread terrorism rather than containing it. We are pushing the Middle East into a downward spiral of violence. We need a complete break from this approach not another escalation"
"Stop the War calls on the government not to break its word to parliament. The deployments, which have no democratic legitimacy, should be stopped immediately" he added.
You can share this story on social media: