​'Alarming' radicalization of UK youth, drawn to danger & adventure - Prince Charles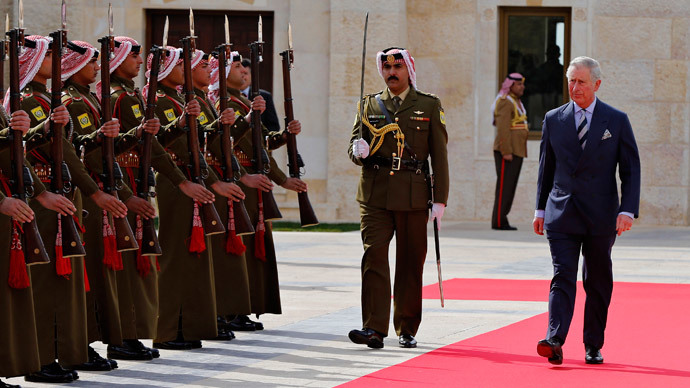 Young people in Britain are being radicalized at an "alarming" rate, which is one of the "greatest worries," the Prince of Wales has warned.
Prince Charles said the main reasons why young people decide to join extremist organizations are the internet and the allure of danger and adventure.
His comments came as he begins a six-day tour of the Middle East on Sunday in which he held talks with Jordan's King Abdullah II.
Charles spoke of British values and the failure to integrate young people into British society.
"You think that the people who have come here, [are] born here, go to school here, would imbibe those values and outlooks," he said in an interview with BBC Radio 2's Sunday Hour.
"The frightening part is that people can be so radicalized either by contact with somebody else or through the internet.
"I can see, I suppose, to a certain extent, some aspect of this radicalization is a search for adventure and excitement at a particular age."
READ MORE:Muslim leaders accuse UK govt of pandering to 'far right'
Around 600 Britons have traveled to Syria or Iraq to join extremist groups including the Islamic State (IS, formerly ISIS/ISIL), according to authorities.
Charles further said he is worried about Christians in the Middle East and feared there would soon be very few left in the region.
"I particularly wanted to show solidarity really, deep concern for what so many of the Eastern Christian Churches are going through in the Middle East.
"Christianity was founded in the Middle East, which we often forget. From a morale point, I hope it showed they were not forgotten. I wish I could do more. Many of us do wish we could do more.
"I think what doesn't bear thinking about is people of one faith, a believer, could kill another believer. That's the totally bewildering aspect in our day and age. It's a most agonizing situation but then I suppose we must remember that all around the world there is appalling persecution going on," he added.
Charles suggested that, when he becomes king, he may still be sworn in as Defender of the (Christian) Faith. There had been speculation that the title could be changed to encompass all faiths.
"I said I would rather be seen as 'defender of faith' all those years ago because … I mind about the inclusion of other people's faiths and their freedom to worship in this country," he said, in reference to multicultural Britain.
"And it always seems to me that while at the same time being defender of the faith you can also be protector of faiths."
READ MORE:'I won't be used to peddle UK arms in Middle East' – Prince Charles
Charles is expected to also visit Saudi Arabia, Kuwait, Qatar and the United Arab Emirates.
On Sunday morning, he visited the Za'atari refugee camp in Jordan close to the Syrian border, where 85,000 people displaced by the Syrian civil war found refuge.
The UK's development secretary, Justine Greening, was also at the camp and she pledged £100m in aid to provide clothes, medical care, food and shelter to the refugees.
READ MORE:UK offers just 90 places for Syrian refugees! Abject failure says Amnesty
More than 600,000 Syrian refugees have fled to Jordan since the start of the conflict and now make up almost 10 percent of Jordan's population.
"Britain stands shoulder to shoulder with Jordan as the country continues to play a pivotal role promoting stability in the region and providing a safe haven for hundreds of thousands of Syrian refugees, many of whom have fled unimaginable horrors in their home country," Greening said.
The UN's appeal for Syria and the region stand at £5.5 billion; the largest ever for a single crisis.
You can share this story on social media: