​UK military experts warn of 'weaponized Ebola' – report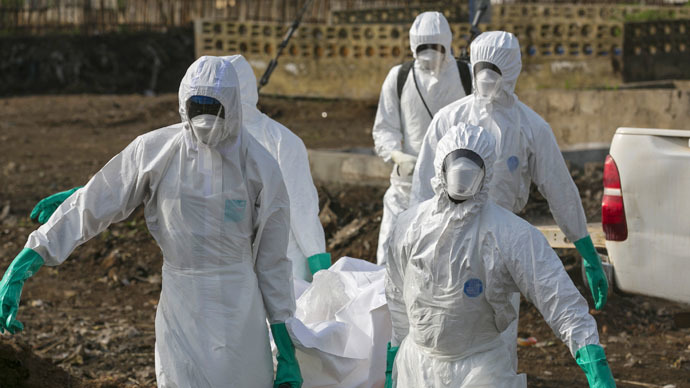 British military experts fear terrorists could 'weaponize' Ebola, a heavily redacted Ministry of Defence (MoD) report has revealed.
The report, released on Friday, identified a number of scenarios in the event of a biological terrorist attack in the UK, and was drawn up by the MoD's defense science and technology laboratory (DSTL).
While two scenarios have been almost completely redacted, with the second being described as "logistically and technically challenging for a non-state group to undertake," the third detailed a fear that the spread of Ebola in West Africa could be transmitted into the UK.
Though few details are known about a possible plan, the report warns of "the feasibility of a non-state actor (NSA) exploiting the Ebola outbreak in West Africa for bioterrorism."
The first scenario, which was completely blacked out, also carried a note reading: "Clearly there are practical issues involved with such a scenario that of themselves are often not insurmountable but taken together add to the complexity of successfully undertaking this attack."
READ MORE:'Entire villages disappeared': Ebola deaths in Sierra Leone 'underreported'
Last year, military officials expressed concerns that terrorist groups such as Islamic State (IS, formerly ISIS/ISIL) could find a way to turn Ebola into a bio-weapon against the West.
Speaking to Forbes magazine, Captain Al Shimkus, a Professor of National Security Affairs at the US Naval War College, said such plans were feasible, and that militias could turn humans into 'weapons' if they carry the disease.
"The individual exposed to the Ebola virus would be the carrier. In the context of terrorist activity, it doesn't take much sophistication to go to that next step to use a human being as a carrier," he said.
Academics and analysts also expressed concerns that militants could infiltrate Western countries by carrying and spreading the disease through human agents, which may be undetected in routine security checks.

READ MORE:Ebola outbreak in W.Africa 'totally out of control' – MSF
"In some ways it's a plausible theory – IS fighters believe in suicide and this is a potential job for a suicide mission," Professor Anthony Glees, Director at Buckingham University's Centre for Security and Intelligence Studies told Mail Online.
"They are sufficiently murderous and well-informed to consider it, and they know that we've been remiss in the UK."
Last week, a second UK military healthcare worker was flown to the Ebola specialist unit at London's Royal Free Hospital, following warnings they had likely been exposed to the Ebola virus while managing medical equipment in Sierra Leone.
You can share this story on social media: