​Revolutionary 'Da Vinci' robot performs breakthrough micro-surgical treatment
Published time: 30 Jan, 2015 16:44
Edited time: 30 Jan, 2015 16:44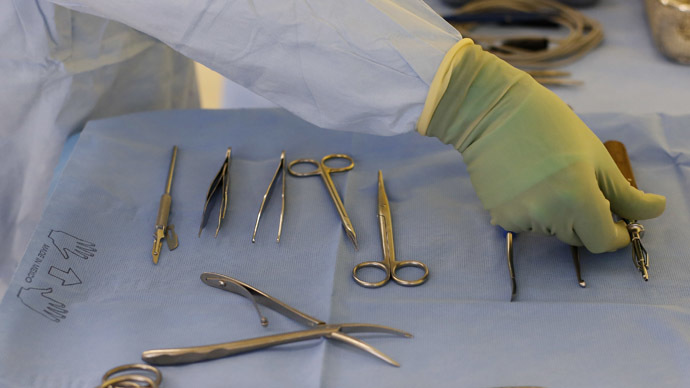 In a huge breakthrough for medical science, a robot fitted with multiple arms has performed its first operation on a human patient, meaning revolutionary new treatments will be available for the first time.
The Da Vinci XI is a specialist robot operated by surgeons which has the ability to make extremely small incisions. The advance means patients previously requiring invasive surgery with long recovery times can now undergo more delicate treatments.
Surgeons at The Royal Marsden, the hospital where the Da Vinci XI has been trialed, say the machine pushes the boundaries of modern surgery and will vastly enhance cancer treatment.
Dr Pardeep Kumar, consultant urological surgeon at the hospital, explained the robot's main function.
"[The surgical robot] acts as an extension of the surgeon's hands and allows us to carry out complex surgeries through tiny incisions. It miniaturizes the movements of the surgeon who control it."
"Our patient today has cancer of the colon and they've had several surgeries in the past. That means usually we would tackle this operation with a large open incision that extends from the ribs right down to the belly button."
He praised the "control and accuracy" of the machine. The technology means patients can "wake up from surgery with little or no pain and recover incredibly quickly."
READ MORE:Health service tops voters' concerns in UK general election battle
"It's an incredible opportunity for all the surgeons here who are really looking forward to making a difference and pushing forward the boundaries of surgery for cancer," he added.
In this landmark operation, the robot's four arms were used simultaneously by two different surgeons to make minute incisions on the patient, a 58-year-old woman.
The robot boasts economic benefits as well as improving healthcare standards. Recovery times after an robotic operation are much shorter, meaning more hospital beds are freed up, saving the health service both time and money.
The Royal Marsden Hospital said the robot puts its surgeons at the "forefront of robotic surgery" in the UK, and is one of the latest models to arrive in England from the United States.
It was funded in part by a donation of £1.5 million from philanthropist Don McCarthy, whose wife was treated at the Royal Marsden for bowel cancer before her death in 2007.
The hospital already provides some robotic surgical procedure, but the Da Vinci XI is able to work on multiple areas of the body at the same time, and its arms are able to move independently of the main body of the robot.
The robot is only the first step in the dramatic rejuvenation of the hospitals surgical unit. Surgeons are also training 30 new staff who will be able to use the technology to operate on multiple types of tumor.
Although 80 percent of operations will still be carried out in the traditional way, the hospital hopes to complete two operations per week with the help of their robot.