​UKIP dumps would-be MP over racist Facebook rant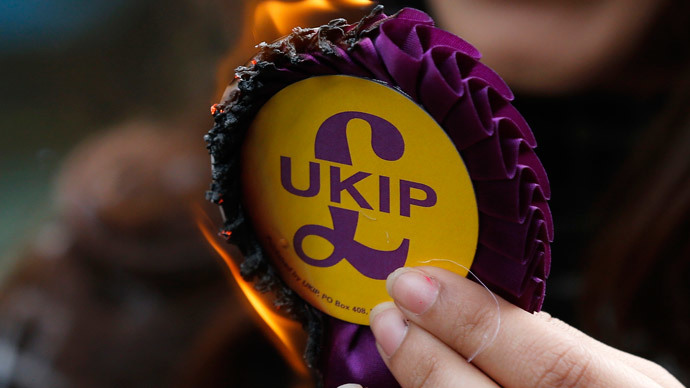 The UK Independence Party (UKIP) has once again been forced to distance itself from one of its own members, after a would-be MP was dumped for sharing a post in which he called mixed-race couples a "plague."
Mark Walker was hoping to stand for election in Bromsgrove, in the West Midlands, but was axed by UKIP after his racist social media posts were revealed.
In a separate post, Walker blamed Mossad, the Israeli secret service, for planning the massacre at the Paris offices of satirical magazine Charlie Hebdo.
Ironically, Walker had also warned his followers about the dangers of social media, while still posting theories about conspiracies to turn the population of Europe into "one homogenous mixed breed of blacks, whites and Asians."
He told his Facebook followers to be wary of being added to groups, as even if they leave they could still be associated with them in the future.
"Your name, profile and image will be associated with that group and everything written there, and you may be surprised how different the views and opinions of that group are with yours even though they may show a UKIP banner."
The articles he posted, however, attracted exactly the kind of negative attention he warned against.
Post by Mark_Walker_UKIP.
One article dismisses multiculturalism and mass immigration as "propaganda," covering up for the real conspiracy to "destroy the face of the continent."
Walker further claims that German Chancellor Angela Merkel and other senior European officials are part of this conspiracy, and have even won prizes for promoting heretic work.
A UKIP spokesperson said Walker's comments made him "unsuitable" to be a candidate for the party.
"UKIP is non-racist, non-sectarian. Mark Walker will not be selected as we believe his comments show he is unsuitable," they said.
Labour MP John Healey told The Mirror: "These are yet more disgusting views from UKIP representatives. I hope Mr Farage is going to immediately distance himself from this."
This is the latest in a series of political gaffes by prominent UKIP members. Less than a week ago, senior UKIP member Matthew Richardson made headlines after claiming "hundreds of thousands of bigots in the UK need representation too."
You can share this story on social media: