​UKIP unveils anti-immigrant, populist wish list of 100 policies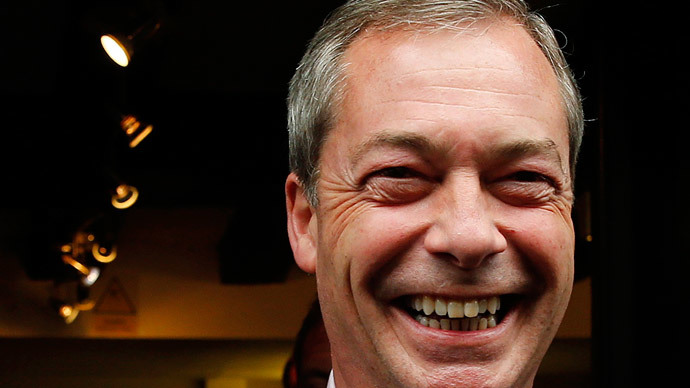 With fewer than 100 days left before the general election, the UK Independence Party has announced a shopping list of policies titled, "100 reasons to vote for UKIP." They include scrapping prisoners' right to vote and an emphasis on "British identity."
Top of the list is "Get Britain out of the European Union," which the party insists is its main policy.
The list also features more controversial pledges, such as removing the UK from the European Court of Human Rights and replacing it with a British Bill of Human Rights.
UKIP's policy chief and deputy chair, Suzanne Evans, said the money saved by leaving the EU would be used to fund the NHS.
plenty of @UKIP policies I don't like, but this is 1 of their better ideas- Houses on brownfield sites to be Stamp Duty exempt on first sale

— Martin Sansom (@AntiquesTwins) January 28, 2015
"UKIP believes we should leave the European Union and spend £3 billion of the £10 billion we pay out every year in membership fees on the NHS instead."
They also promise to prioritize social housing for people who have parents or grandparents in their locality, in a thinly-veiled attempt to reduce the number of immigrants claiming social housing.
Other policies that also suggest a more isolationist standpoint are the reduction of UK foreign aid by £9 billion and "taking control" of immigration with an Australian-style points system.
The party's list puts emphasis on the armed forces, pledging soldiers would be "properly equipped" and ensured jobs on return from duty.
READ MORE:UKIP voters wouldn't accept a Jewish prime minister – poll
UKIP also pledged to establish a "Veteran's Administration" and create a "National Service" medal for serving members of the armed forces.
In terms of education policy, the party pledged to abolish tuition fees for those studying mathematics and science, and to bring back grammar schools.
i don't think ukip will win because their policies are too radical, ur "moderate racists" will vote for cameron instead

— katarzyna (@wifeyriddim) January 28, 2015
Recent polling by the Guardian, however, suggests UKIP will play a smaller part in the next parliament than previously imagined.
According to the latest set of opinion polls, the Labour and Conservative parties could tie with an equal number of seats in the House of Commons. They would therefore need to form an alliance with the Liberal Democrats and the Scottish National Party (SNP) to form a stable government.
The polls suggest the two leading parties would win 237 seats each – some way off the 326 needed for an outright win. The SNP would secure 49 if the election was held today.
SNP leader Nicola Sturgeon has previously said she would not be willing to form a coalition with the Conservatives, but did not rule out a Labour/SNP alliance.
UKIP, however, has seen its place in UK politics threatened by the rise of the Green Party, whose membership overtook UKIP's in early January.
Some 41,567 people in the UK are now Green Party members, party sources revealed, with membership more than doubling since September. The party claims up to 500 people had joined in a single day.
You can share this story on social media: