​British Jews, politicians & anti-fascists mark 70yrs since Auschwitz liberation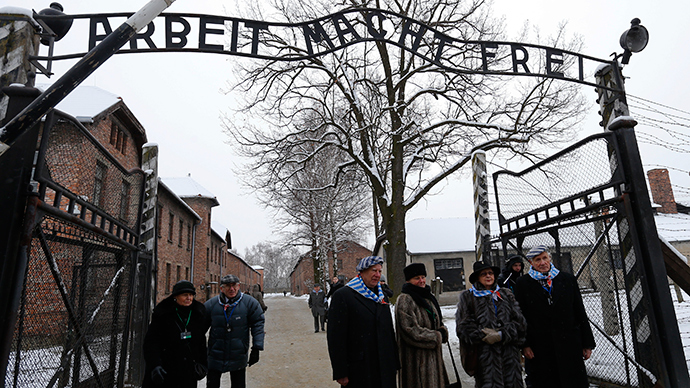 London is joining capitals worldwide in events marking the 70th anniversary of the liberation of the Nazi death camp Auschwitz-Birkenau in Poland, commemorating the millions who lost their lives during the Holocaust.
Many Holocaust survivors now live in Britain. They will be joined by senior politicians, dignitaries and religious leaders at a national commemoration in central London. Meanwhile, 70 candles, designed by artist Anish Kapoor, will be lit at venues across the UK, one for each year since the liberation. One of the candles will be lit at Auschwitz itself.
Labour Party leader Ed Milliband's parents are of Polish Jewish origin. His grandfather lost his life in a German forced labor camp during the Holocaust.
"This is really an emotional day for people who have memories of family involved in this," Miliband told BBC Radio 5 Live on Tuesday. "It's 70 years since my grandfather died in one of the camps and I marked that about 10 days ago."
Around 60 members of Milliband's extended family reportedly died at the hands of the Nazis.
Another Holocaust survivor, now living in Britain, is Ruth Young, who was born in Ulm, Germany.
In a video recently posted on YouTube, Young describes her life as a Jew living in Nazi Germany. She describes the human experience of political events, like Reichskristallnacht, and how Jews were treated as "third-class citizens."
The Nazis, led by Adolf Hitler, came to power in 1933. "They could do to us whatever they liked," Young explains. In 1939, she and her mother fled to the United Kingdom.
"The time of the Shoah, the Holocaust, is past. It's history," Young says. "We have to forgive, to look at the new Germany and hope that it never happens again. We should be tolerant towards other people and accept them as they are. And I think that's what we all have to learn."
Auschwitz-Birkenau was liberated by the Red Army of the Soviet Union on January 27, 1945. Between 1940 and 1945, 1.1 million people, the vast majority Jews, were killed at the camp.
Survivors will lay wreaths and light candles at the so-called Death Wall at Block 11 on January 27. Heads of state, including the presidents of Germany and Austria, as well as representatives from wartime Allies will commemorate the liberation anniversary.
UK campaign group Unite Against Fascism (UAF) is holding its own event in Glasgow.
"The aim of the meetings is not only to remember the victims of the Holocaust and why it happened, but also to draw attention to the modern day threat of fascism and racism, which is on the rise across Europe and in Britain," the UAF said.
People across the globe use Holocaust Memorial Day to share their experiences and remember those who perished.
In 1938 my family escaped Germany to Uruguay then bribed pilot to get on cargo plane to Argentina. They were lucky. #HolocaustMemorialDay

— Josh Feldberg (@JoshFeldberg) January 27, 2015
20 years later my dad had to flee argentina as political refugee. He took 6 week boat to Europe ended up in Paris #HolocaustMemorialDay

— Josh Feldberg (@JoshFeldberg) January 27, 2015
From Paris my dad went to Lpndon where he met his lost uncle, a scientist who'd been given asylum by UK #HolocaustMemorialDay

— Josh Feldberg (@JoshFeldberg) January 27, 2015
Auschwitz survivors commemorated the victims of #Auschwitz and laid wreath at the execution wall #Auschwitz70pic.twitter.com/hUvD6ewhTK

— Auschwitz Memorial (@AuschwitzMuseum) January 27, 2015
You can share this story on social media: