Ancient underwater forest discovered by diver off Norfolk coast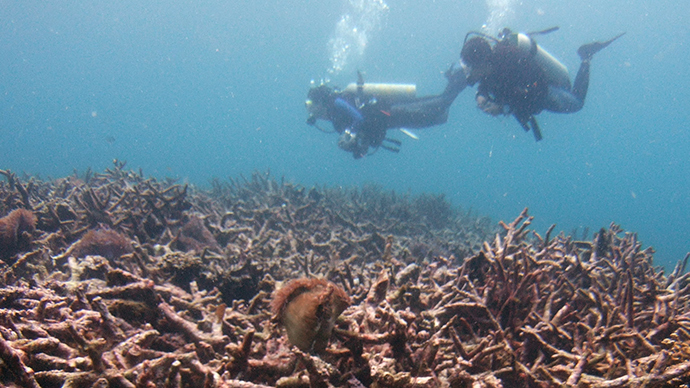 A diving enthusiast stumbled upon an ancient forest nestled under the North Sea while diving along the Norfolk coast. Experts say it may have stretched as far as Europe in its heyday, and has been hidden since the Ice Age.
Dawn Watson, a 45-year-old British diver, discovered the 10,000-year-old forest on a diving expedition off the coast of Norfolk's Cley next the Sea.
Much to her bewilderment, she discovered whole oak trees with majestic branches measuring eight meters long on the ocean floor.
The pre-historic forest is believed to have been uncovered by severe storms in December 2013.
Watson runs a Marine Conservation Society survey program called Seasearch in East Anglia with her partner Rob Spray.
She said they were "absolutely thrilled" by the discovery.
"I couldn't believe what I was seeing at first," she told the Daily Mail.
"The sea was quite rough by the shore so I decided to dive slightly further out and after swimming over 300 meters of sand I found a long blackened ridge."
When she observed more closely, she realized she was looking at wood.
As she swam out further, she claims she saw tree trunks complete with branches that looked like they had been felled at some point.
The 45-year-old, who has dived in the North Sea since 1989, said the trees are thought to be part of a forest that may have once spanned thousands of acres.
The trees were part of a district known as 'Doggerland,' which once formed part of a much larger territory.
Experts say it was so expansive that hunter-gatherers based in the area could have travelled on foot to Germany.
The forest became submerged in water when ice caps disintegrated and the level of the North Sea rose by approximately 120 meters.
The trees are now situated on the ocean bed where they have evolved into a natural reef infused with shoals of colorful fish, a diverse variety of plants, and other forms of marine life.
In 2014, ancient forests were also discovered along Welsh and Cornish coastlines following stormy weather.
As peat was washed away, crooked tree trunks surfaced on the shore near the Welsh village of Borth. Heavy rain and winds also shifted masses of sand and pebbles on beaches in Cornwall, exposing tree trunks of pine, beech, and oak.
You can share this story on social media: