Office worker tackles machete-wielding jewelry thief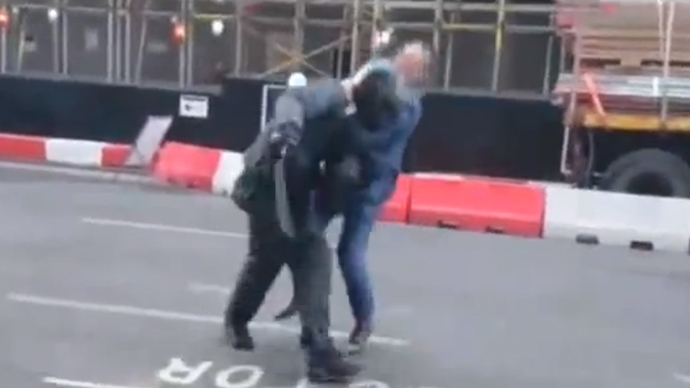 A video of an office worker attempting to take down a machete-wielding man following a suspected robbery in London has gone viral.
The footage shows a passer-by run up behind the suspected thief and jump on his back in an attempt to bring him to the ground.
The balaclava-clad man then whips out a machete, brandishes it at the office worker before fleeing on foot.
An unmarked police car is also seen attempting to block the robber's escape. The plain clothes officer initially runs after the man brandishing the machete before returning to his car.
A group of robbers broke into Carr Watches and Diamonds in the City of London at around 2.30 pm last Thursday.
It is believed the thieves used a concrete block and a sledgehammer to smash open the shop's windows.
Police chased three men to a car park in Gravel Lane, where they managed to arrest the man carrying the machete. The two others escaped and remain on the run.
The man who was arrested has been charged with conspiracy to rob and threatening a person with a knife in a public place and has been remanded in custody.
City of London Police are appealing for witnesses to the armed robbery.
You can share this story on social media: