​British jihadist in Syria pens 'war widow' guide, husband presumed dead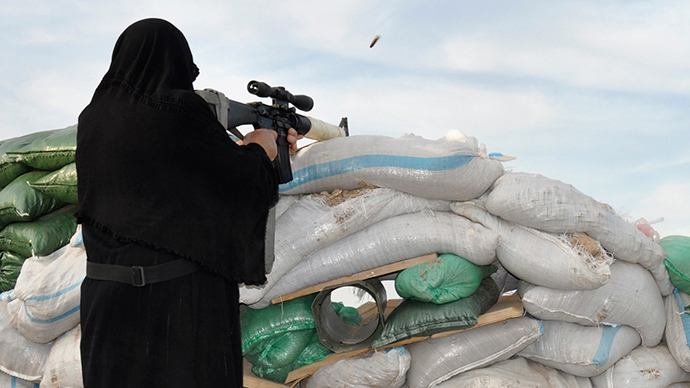 A British female jihadist who traveled to Syria has written a new guide on how to be a 'war widow', leading to suspicions that her 'husband' has been killed in battle.
Aqsa Mahmood, 20, from Glasgow, was a former private school pupil who traveled to Syria in 2013. Mahmood went under the alias Umm Layth, and was one of the best-known foreign fighters on social media sites, although both Twitter and Tumblr blocked her accounts.
In September, Mahmood urged Muslims living in the West to carry out attacks at home if they could not travel to Syria, saying they needed to 'pick a side' and adding "you're with them or with us."
In the 'war widow' guide, she writes: "You already knew you wanted to marry a Mujahid [a jihadist] so why did you not read up on what will be the rulings for you after his departure?
"don't forget to pack thermal clothing or you'll regret it later on." Via @moscow_ghost: http://t.co/i7MLXaWQxapic.twitter.com/SCsBUaXP5w

— proletin (@proletin) November 21, 2014
"Sisters, it is very important you read up on all the information you can find on your Iddah [waiting period], it's [sic] rules and regulations."
Mahmood has written a variety of blogs tailored towards women traveling to Syria, including guides on how to get married, cooking recipes and guidelines for bearing and raising children in the region.
"To stay without a man is really difficult," she says in one post.
Following the Boston Marathon bombings and the killing of British soldier Lee Rigby, Mahmood also encouraged British fighters to carry out attacks on home soil.
"Follow the examples of your brothers from Woolwich, Texas and Boston," she tweeted. "If you cannot make it to the battlefield, then bring the battlefield to yourself."
While little is known about Mahmood prior to her joining the Islamic State (IS, formerly ISIS/ISIL), reports from the Scottish Daily Record suggest her interest in orthodox Islam began when she was 15, mainly through chat forums frequented by 'extremist' Muslims.
Scots jihadi in Syria told her parents: I want to be martyr and will see you on judgement day. http://t.co/3qFgiQM4dopic.twitter.com/4cxRxldKtw

— STV News (@STVNews) September 5, 2014
Prior to her departure, Mahmood attended Glasgow Caledonian University, studying diagnostic radiography, although she dropped out of the college in November.
Mahmood is one of around 500 Britons suspected to have traveled to Syria since the civil conflict began in 2012, although both government officials and analysts have admitted they cannot confirm the actual number to have joined militia groups.
Mahmood's parents, Muzaffar, 51 and Khalida, 41, have publicly pleaded for their daughter to return home, saying that she has "betrayed" them.
In a statement released last year, her parents said: "We still love you but we now have to put your family, your brother and sisters first as you have betrayed us, our community and the people of Scotland when you took this step."
"All parents want to be proud of their children but sadly we feel nothing but sorrow and shame. You have torn the heart out of our family and changed our lives forever, please come home," they added.
You can share this story on social media: