​Bro fail: Twitter faux pas as Obama follows wrong David Cameron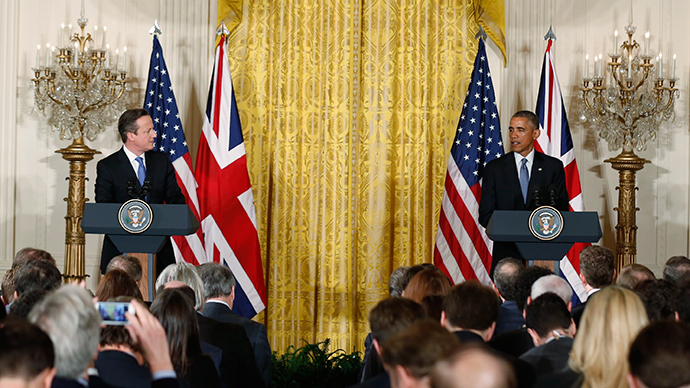 Another Twitter embarrassment has been added to the political record, as US President Barack Obama followed the wrong David Cameron Twitter account.
With over 284 million active users and 500 million tweets being sent out a day, Twitter is one of the most widely used social media platforms in the world.
Politicians are keen to use the platform to connect with voters. But when they make a mistake, everyone hears about it.
Although Obama apparently refers to Cameron as his "bro," this brotherly affection for the prime minister is not translated in social media etiquette.
Last month Obama expressed his "brotherly" love for Cameron when he said: "He's one of my closest and most trusted partners in the world." They both see the world "in the same way," Obama added.
The US president follows a stately 645,000 people on Twitter, while Cameron follows a modest 328 – Obama among them.
In return, however, Obama overlooked Cameron's @David_Cameron account in favor of the unconnected @DavidCameron handle.
The owner of @DavidCameron account lives in Oregon and tweets about Star Trek, the Telegraph reports.
"What if Obama isn't following the PM on purpose?" the @DavidCameron Twitter owner tweeted.
What if Obama isn't following the PM on purpose? pic.twitter.com/B4OMjjUHXS

— DavidCameron (@davidcameron) January 23, 2015
Obama is not the first to court social media embarrassment. British politicians have trended on Twitter for their humiliating mistakes in recent years.
In March 2014, Cameron promoted his "close" relationship with the president on Twitter, tweeted an image of himself "on the phone to Obama," discussing the situations in Ukraine.
I've been speaking to @BarackObama about the situation in Ukraine. We are united in condemnation of Russia's actions. pic.twitter.com/7Rk2k8iOIK

— David Cameron (@David_Cameron) March 5, 2014
The picture was mocked by thousands on social media, and reached its peak when Sir Patrick Stewart imitated Cameron, holding a pack of wet wipes to his ear.
Stewart tweeted: "I'm now patched in as well. Sorry for the delay." The image was retweeted over 21,000 times.
.@robdelaney@David_Cameron@BarackObama I'm now patched in as well. Sorry for the delay. pic.twitter.com/elLQcKcV3w

— Patrick Stewart (@SirPatStew) March 5, 2014
Conservative politician George Osborne attempted a "man of people" Twitter stunt when he shared an image of himself eating a late-night takeaway, while working on an austerity focused budget.
This backfired as his followers pointed out he was not eating "an average takeaway." The Sun later revealed he was eating a burger from the upmarket chain Byron Burger.
Putting final touches to the speech #SR2013pic.twitter.com/jk3FYmqVnm

— George Osborne (@George_Osborne) June 25, 2013
Osborne was mocked by Secretary of State for Communities and Local Government Eric Pickles, when he posted an image of himself "working on a speech" while eating a salad.
Putting final touches to the LGA speech #lgaconf13pic.twitter.com/ls9ZWDz3rM

— Eric Pickles (@EricPickles) June 27, 2013
Cameron's Labour Party opponent Ed Miliband became the object of ridicule on Twitter when he made an unfortunate spelling error.
After the "Blockbusters" host Bob Holness died, Miliband tweeted: "Sad to hear that Bob Holness has died. A generation will remember him fondly from Blackbusters."
The clumsy politician deleted the tweet and reposted it again with the corrected spelling, but not before social media had a good giggle at his expense.
You can share this story on social media: