​Over 100,000 teens 'led astray' after education - MPs warn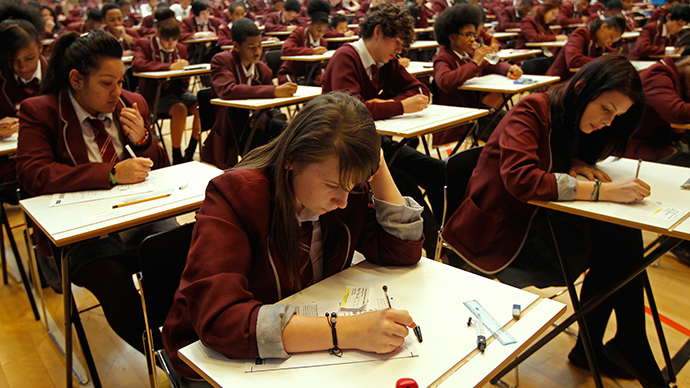 Over 100,000 young people in Britain are "untraceable" once they leave school, as local councils remain uncertain as to whether the missing teens are in education or not, MPs warn.
The UK parliament's Public Accounts Committee (PAC) has released a new report which demonstrates the rapid growth of students not in education, employment or training (NEETs) in Britain.
The report reveals that 148,000 out of two million 16 to 18-year-olds in England are not in education, employment or training.
The UK is "still behind" other OECD countries when it comes to reducing NEETs, according to the report.
The PAC states that local councils are "unaware of what large numbers of 16 to 18-year-olds in their areas are doing."
The committee says councils are "failing" to give teenagers sufficient support and supervision.
Margaret Hodge, chair of the Public Accounts Committee said: "Too many young people simply disappear from all the relevant public systems."
"A hundred thousand plus young people are off the radar in that some local authorities do not know whether they are participating in education or training or not," she added.
Additionally, Hodge said if the activity of young people is "unknown" to local authorities, they are "unlikely to receive targeted help."
Report into 16-18 year old participation in education and training published by @CommonsPAChttp://t.co/B9FAyfcVAM

— UK Parliament (@UKParliament) January 22, 2015
Critics argue that schools do not provide enough employability and careers advice to their pupils.
Students who do not attend college are often encouraged to apply for apprenticeships.
PAC found it "disappointing" that the total number of new apprentices in Britain aged 16 to 18 dropped last year.
Speaking to RT, a trainee secondary teacher from Manchester, who chose to remain anonymous, said: "After year 11, some students are unsure of whether they want to go straight to college or not."
The teacher says more career advice in schools would "teach students about apprenticeships," which would encourage them to stay in "some sort of training."
"I just feel that employability is not a focus in some schools," the trainee teacher expressed.
In order to reduce the rate of NEETs in Britain, schools should "have an employability week every term" as it will allow students to "think more about their future," the teacher said.
The committee says careers advice in schools "remains patchy across the country," and most young people "do not receive the careers advice they need."
In 2010 the Department for Education transferred responsibility for providing careers advice to schools but "did not give them additional resources to fund it," according to the report.
Others argue that teens are being led astray because of growing transportation costs.
PAC is distraught that local authorities are failing to help 16 to 18-year-olds with travel costs to school or college.
It says this could lead to teens feeling too "disadvantaged" to attend education or training.
David Simmonds, chairman of the Local Government Association's Children and Young People Board, said many councils had "dug deep" to attempt to fund travel costs for young people to get to college.
Furthermore, David Fawcett, a secondary school teacher from Hampshire told RT he believes the removal of advisory agencies such as Connexions meant that young people "didn't have a visible service to turn to."
"It became the role of schools to do this," he added.
Fawcett says the NEETs crisis is "a bit more complicated" than it being down to careers supervision.
You can share this story on social media: