Cameron vows not to cut army down to 60,000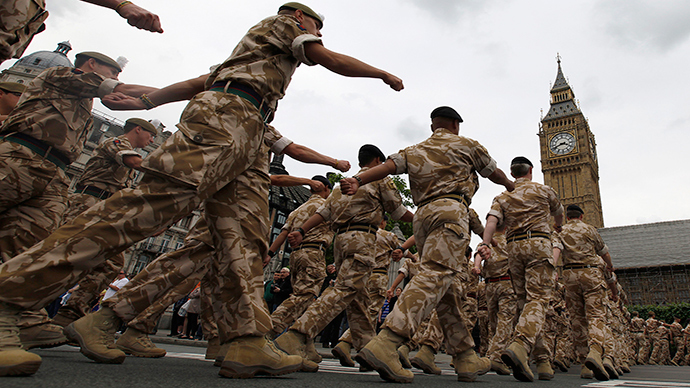 David Cameron has assured MPs that the UK army would not be cut below its current level of 82,000, following reports of Ministry of Defence budget cuts.
Cameron was asked by Aldershot MP Sir Gerald Howarth, to reassure him that the reports of a reduction in the size of the regular army from its already low level of 82,000 to 60,000 were unfounded, and that no such cuts will be made.
The Prime Minister gave his "absolute" assurance that he would not cut the size of the regular army, adding that these ideas were "absolutely not on the table."
"As long as I am Prime Minister, the army will stay at its current size," he said.
Under current plans, the army will shrink to 82,000 personnel by 2020, with the number of reserves due to rise to 30,000 if they can be recruited.
The idea that David Cameron could try to downsize the army further was raised by the former defense minister Sir Nick Harvey, who said paper exercises in the Ministry of Defence were being undertaken to look at further cuts to troop numbers. Sir Nick told MPs: "There are already paper exercises going on in looking at what an army of just 60,000 would look like because of the financial crunch that the department is going to be facing."
However, Cameron has declined to promise that UK defense spending would be maintained at 2 percent of the GDP – the level required by members of NATO.
MP Nigel Dodds asked during Wednesday's Commons debate whether David Cameron could guarantee the UK would continue to spend at least 2 percent of GDP on defense "in order to keep this country strong at home and abroad."
The Prime Minister did not directly answer the question, but instead said, "We are one of the few NATO countries that does achieve 2 percent of spending on defense, and because of that you're going to see in the coming months and in the coming years a defense equipment program which I think is second to none in Europe."
He added, "Two aircraft carriers, new joint strike fighters, hunter killer submarines, the new frigates. You can see a really strong defense industry supported by the commitment we've made that the defense equipment program specifically should be protected."
You can share this story on social media: