UKIP candidate says Twitter critic has 'piles and STDs'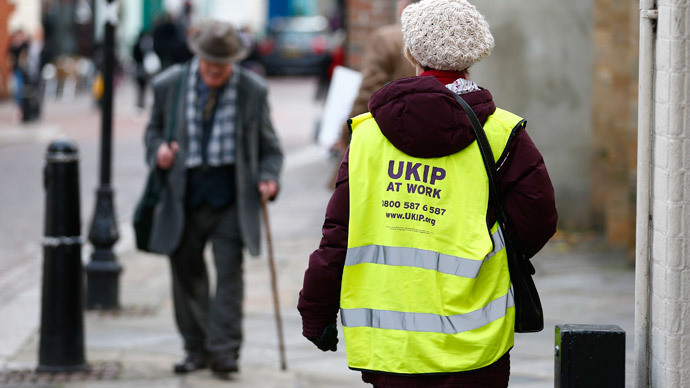 A UKIP candidate and general practitioner has apologized after accusing a Twitter user of only contributing 'piles and STDs' to the NHS.
Dr Jonathan Munday tweeted the abusive comments at a woman who asked him to clarify UKIP's position on the NHS.
The hopeful candidate for Wellingborough & Rushden constituency was angered by the exchange, which drew in a third twitter user who also wanted Munday to clarify his party's policy.
Tuesday's gaffe is the latest in a series of blunders by UKIP representatives, with news emerging earlier this month that a councilor admitted she had a problem with 'negroes.'
Munday was confronted on Twitter about his party's stance on NHS provision for EU immigrants in the UK by a woman who called herself 'Mistress 9 danke'.
"I'm an EU migrant I have lived in the UK for 26 years, would [I] have to pay for NHS under #ukip?" she asked.
Munday replied: "New migrants, not existing citizens, will have to take out private health insurance Includes EU after we leave it."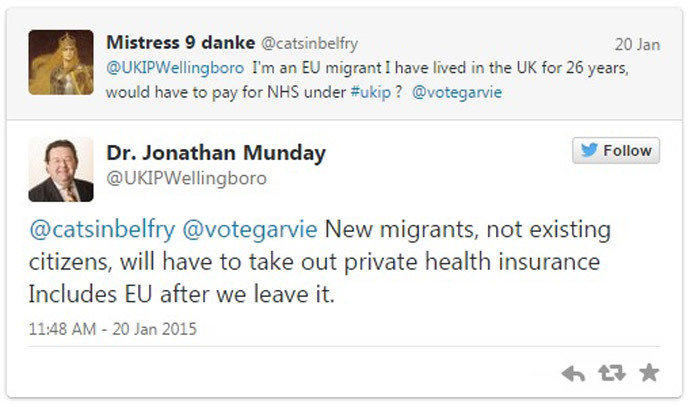 His response wasn't satisfactory for 'Mistress 9 danke', who said he failed to answer her question on UKIP's NHS policy.
Another Twitter user agreed, saying: "Yeah mine too. It would be hard for him to claim he supports the #NHS, because @Nigel_Farage doesn't."
Evidently this hit a nerve, because Munday replied with this somewhat kneejerk response.
"Both Nigel and I support the NHS. I have worked in it for 31 years. What has been your contribution- Piles and STD?"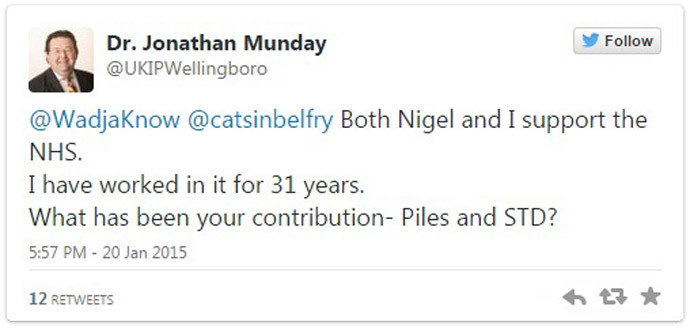 In another abusive tweet, he accused 'Mistress 9 danke' of being a benefit scrounger.
"I have been at work all day. Presumably you are one of the EU people claiming benefits with time on your hands," he said.
Munday has since apologized for comments, saying it had been a "long day."
Speaking to the Huffington Post, he said:
"After a long day in the surgery and after working 31 years as a GP in the NHS, yesterday I received several unsolicited tweets from people, who were not constituents or patients, who didn't know me, who impugned my support for the NHS and my caring as a doctor just because I support UKIP's sensible policies for the protection and development of the NHS and they disagreed with them."
"I issued an intemperate but jokey response, which I now regret and withdraw," he added.
Munday told the Northants Herald and Post that he became angry because his professional integrity was being called into question.
READ MORE:'Jaw dropping': Sacked UKIP councilor has problem with 'negroes' because of their 'faces'
"They seemed to be implying that a doctor couldn't or shouldn't support UKIP which is [nonsense], so I insulted them back," he said.
The Twitter user at the receiving end of the abuse said she was "outraged" by Munday's comments.
A German national who is a university lecturer and has lived in the UK for 26 years, she said her questions were "legitimate."
"I have taught students in the UK for many years, contributed to society, education and by paying taxes. I will therefore not suddenly be insulted by a person who wants to be a MP and as a GP should conduct himself according to the high social standing of his profession," she told the Northants Herald and Post.
"To allege that someone who questions UKIP policy is a STD ridden benefit scrounger is outrageous. His callous misogyny and racism makes me worry for his patients," she added.
UKIP's chairman, Steve Crowther now advises candidates not to use social media at all.
"I have no Facebook page, Twitter account or Instagram thingy. It's lovely," he said.
You can share this story on social media: