​UK unemployment rate drops to 5.8%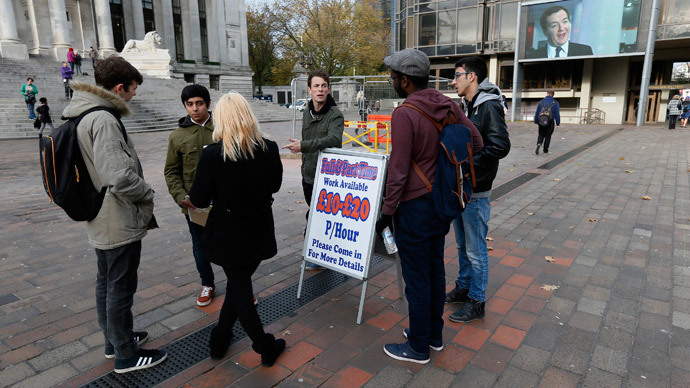 The unemployment rate in the UK has dropped to 5.8 percent, the lowest it's been in six years, the Office for National Statistics (ONS) has confirmed.
A Reuters' poll of analysts had a consensus estimate of 5.9 percent. The declining numbers make perfect political timing for David Cameron, as "full employment" is one of his key election issues.
The number of people out of work dropped by 58,000 between September and November to 1.91 million, this is the lowest it has been since autumn 2008. ONS figures show 30.8 million people are currently in work.
The latest ONS figures show the number of people claiming job seekers allowance is "at its lowest level" since 2008.
It also confirmed the employment rate had leaped to 73% from 72% over the year, as more people have found work.
Conversely, the figures show it has been the slowest fall in unemployment since September 2013.
David Cameron is claiming he will move Britain towards 'full employment' if he wins the general election in May.
New employment stats from @ONS show half a million more people in jobs over the last year #GetBritainWorkinghttp://t.co/GVRXT0uxox

— UK Prime Minister (@Number10gov) January 21, 2015
Shortly before the figures were released, Julie Elliot, Labour MP for Sunderland Central slammed Cameron's employment plans for the UK.
She said: 'People in the North East will find David Cameron's conversion to achieving 'full employment' extremely difficult to believe.'
'This government has been complacent in the extreme when it comes to the jobs situation in this region. It's a strategy based on creating low wage, low skill jobs, often on zero hours contracts with low job security. This isn't a strategy for the long-term success of our region,' she added.
New job stats show people claiming Job Seeker's Allowance at lowest level since 2008 @DWPgovuk#GetBritainWorkingpic.twitter.com/QuIujLq0P1

— UK Prime Minister (@Number10gov) January 21, 2015
Cameron's political boost allowed him to overcome the pressure from Labour, as he said the new figures are 'proof' that the UK is on its way to full employment.
Furthermore, The Prime Minister said: 'The drop in unemployment is welcome news. Behind the statistics are stories of people finding self-respect and purpose in life'.
Despite the positive news on unemployment, there has been another increase in the number of people classed as 'economically active', up to by 66,000 to more than 9 million.
Between Sep-Nov 2013 & Sep-Nov 2014 employment increased by 512k; unemployment fell by 418k http://t.co/JaSHH24WbKpic.twitter.com/7MbF3yPD1b

— ONS (@ONS) January 21, 2015
The Director of Totaljobs.com, Ian Burke, said: "Today's fall in unemployment, is a great start to 2015."
He also said the figures would put a "big smile on the face of the Conservative Party."
Labour's Shadow Work and Pension's Secretary Rachel Reeves said: "today's falls in overall unemployment is welcome, but wages remain sluggish and working people are £1,600 a year worse off since 2010."
The latest poll from YouGov for The Sun placed the Conservative Party two points ahead of Labour (32% vs. 30%).
Experts suggest these figures have made the outcome for the general elections "even more unpredictable."
You can share this story on social media: