​UK fracking application 'should be refused' due to noise pollution – report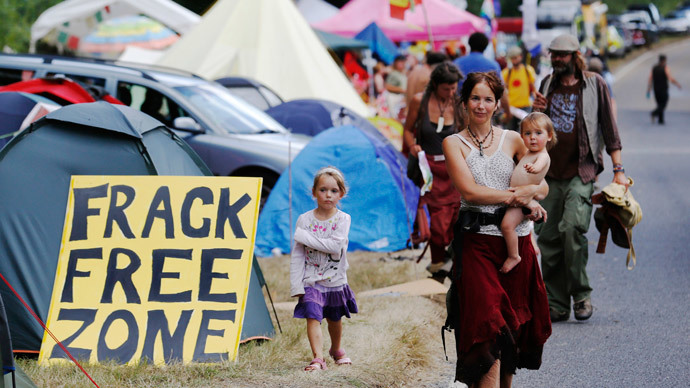 Fracking plans in Lancashire should be rejected due to the "unacceptable" levels of noise and pollution it will create, a report recommends.
Lancashire County Council's planning officer advised against giving energy company Cuadrilla permission to frack, citing the "severe" impact it would have on the local community.
Cuadrilla is awaiting permission from the council to explore for shale gas on two sites in the county. The council is due to decide next week.
If the council takes the advice of the planning officer, it will be a major setback for the British government's plans to develop shale gas.
Speaking in 2012, Prime Minister David Cameron said Britain must be at the heart of a "shale gas revolution."
Chancellor George Osborne pledged to extend a system of deferred tax relief to shale gas companies in his Autumn Statement last year.
In a bid to win over affected communities, he also promised to set up a "sovereign wealth fund" which would redistribute profits from fracking across the North of England.
However, Wednesday's report highlights the concerns local councils have about the industry.
Green MP Caroline Lucas Seeking Complete Ban on UK #Fracking Under the #InfrastructureBillhttp://t.co/NX27XvQbGspic.twitter.com/3Yj0DQumxP

— DeSmog UK (@DeSmogUK) January 14, 2015
Lancashire's planning officer investigated drilling applications for two sites in the county, one at Little Plumpton and another at Roseacre Wood.
The report advised against shale gas exploration at the Little Plumpton site due to the concerns of noise pollution, stating it would "unnecessarily and unacceptably" affect neighboring residents.
For the Roseacre Wood site, the report advised that the increase in traffic from heavy goods vehicles would affect road safety and result in an "unacceptable" impact on rural roads.
Simon Clydesdale of Greenpeace welcomed the report, saying it left Lancashire councilors with a "clear choice."
READ MORE:Shale revolution on a limb, only 11 fracking projects active in UK
"The council now faces a clear choice: They can listen to the planners, and the Lancashire residents that elected them - almost two-thirds of whom want a moratorium on fracking."
"Or they can kowtow to the corporate and political interests keen to force through fracking at almost any cost."
"The whole country is looking to Lancashire to protect its communities from the unnecessary risks that fracking plays with our futures," he said.
A Cuadrilla spokesperson said they were "very disappointed" by the planning officer's recommendation.
Petitions handed to Lancashire council. #LancsDecides 6,000 sign petition. Tens of thousands more oppose uk fracking pic.twitter.com/Nu0KZdzdjj

— Jamie Peters (@jamie85p) January 21, 2015
They said councilors will have to "weigh the relatively minor impacts" outlined in the report against the "wider local and national, jobs, growth and economic as well as energy security opportunities."
Speaking to the BBC, Cuadrilla chief executive Francis Egan said: "It is going to happen."
"We disagree with the recommendation of the planning officer on the noise issue. We hope that the committee will vote for these. If they don't, clearly we have grounds for appeal, we believe, under the planning system."
"Noise and traffic are the two remaining issues, but there isn't a development in the country that hasn't had to address noise and traffic," he added.
READ MORE:New York state bans fracking for natural gas
Wednesday's report comes a month after New York became the second state in the US to ban fracking, citing serious health concerns.
Howard Zucker, New York's health commissioner, said "the potential risks are too great."
"I asked myself, 'would I let my family live in a community with fracking?' The answer is no. I therefore cannot recommend anyone else's family to live in such a community either," he said.
You can share this story on social media: