Doctors successfully transplant organs of newborn baby
Published time: 20 Jan, 2015 14:17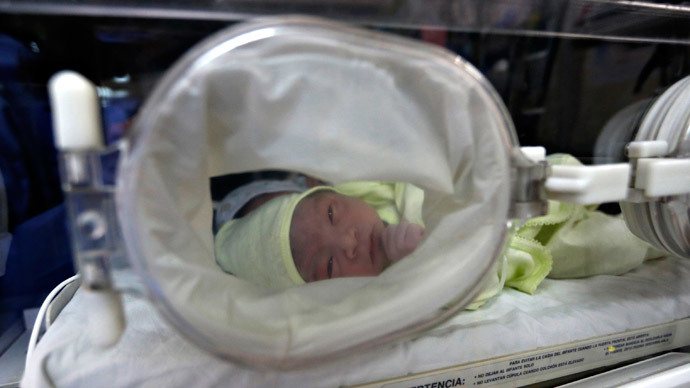 Doctors have performed the first ever organ transplant from a newborn baby in the UK, in two operations described as a "milestone" in pediatric care.
The kidney and liver cells of a six-day-old girl with severe brain damage, who tragically died, were donated to two other patients suffering from renal and liver failure respectively.
The operations were the first of their kind in the UK. Experts claim there is huge scope for more similarly beneficial operations, but that current guidelines are too strict.
Doctors hailed the decision of the donor's parents "extraordinary generosity," in allowing their daughter's organs to be given to other ill children.
In the journal Archives of Diseases in Childhood, doctors said the girl was born with extreme health difficulties. They noted that her brain had been starved of oxygen before she was born and she had "profound" brain damage.
Surgeons involved in the operation said it was a difficult and extremely intricate procedure, as kidneys at this stage of development are only roughly 5cm long.
They didn't comment on the recipient patients, but said neonatal organs could be donated to patients throughout the age spectrum, from babies to adults.
Professor James Neuberger of NHS Blood and Transplant, told the BBC they were pleased with the results, but said more needed to be done for other patients in dire need of organs.
"We are pleased the first transplant of organs from a newborn in the UK was a success and we praise the brave decision of the family to donate their baby's organs."
"The sad reality is for everybody to get the lifesaving transplant they are desperately in need of, more families who are facing the tragic loss of their young child will need to agree to donation."
Currently there are 15 infants in the UK who need organs, according to official waiting lists, but experts say this could be higher as some never make it to the list due to the scarcity of organs.
One reason the numbers of such operations are so low is that the size of the organ is extremely important. NHS Blood and Transplant say organs from older donors sometimes don't work.
Dr Gaurav Atreja, a doctor involved in the transplant, told the BBC he believed there was a positive outcome for the donor's parents, borne from their personal tragedy.
"This turned out to be a positive thing for the family. They could see something positive out of a negative experience."
"We hope that neonatal units across the UK will actively start thinking about this noble cause."
Operations like this one are performed all over the world, and doctors are increasingly claiming strict clinical guidelines threaten the effectiveness of treatment in the UK.
Doctors in the UK are not allowed to declare brain death in a baby under two months old.
The Royal College of Paediatrics and Child Health, however, are set to review this ruling and report back in March.