7/7 bombing victim's widow jailed for stealing son's £43,000 compensation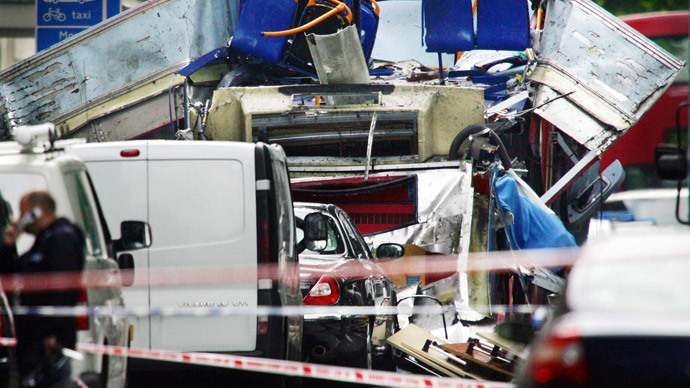 The widow of a 7/7 London bombings victim has been jailed for stealing £43,000 from her son's compensation, awarded after the death of his father.
Louise Gray, 42, spent £250,000 of her own compensation money on four new cars, a Jacuzzi, seven dogs and clothes before dipping into her son Adam's fund, Ipswich Crown Court heard.
She was jailed for two years and eight months after she admitted to stealing the cash between July 2012 and November 2013.
Judge David Goodin told Gray: "The offense you have committed against your son, the trust you betrayed – a second hammer blow following the death of his father – is so serious it can only be met by a custodial sentence."
"The theft of £43,000 is one thing. The theft of £43,000 by a parent from a young adult's trust is quite another, when that sum represented most – practically all – the compensation he received for his father's tragic death," he added.
"It's an act of wickedness almost beyond belief. He has lost not one parent, but two."
Her late husband, accountant Richard Gray, 41, was one of 52 people killed in the 2005 attacks in London as he travelled to work. He was one of seven passengers killed on a Circle line underground train by Bradford-born suicide bomber Shehzad Tanweeron.
READ MORE:7/7 terrorist copycats lose human rights court appeal
Two years after his death, his wife and two children were awarded money by the Criminal Injuries Compensation Authority. The widow received £250,000, while his son Adam was awarded £50,000 and their daughter £100,000.
Adam was 11 years old when his father was killed. The children's money was placed in a trust to be accessed after their 18th birthdays, but Adam gave his money to his mother to look after it until he needed it.
When Adam asked his mother for the money in November 2013, she confessed she had spent it, the court was told.
Adam took civil action to try to recover the cash. His mother was ordered by a county court judge to repay him the £43,000. He also reported the matter to police. Consequently, his mother was prosecuted for theft.
Charity worker Adam said previously: "That money was supposed to safeguard my future but she's left me penniless. I've lost my dad and now I've lost my mum," the Daily Mail reported.
"She never showed me any remorse and she made me feel as if everything was my fault. Although it is hard to think of your own mother going to prison because of a crime she has committed against you, I believe that I deserve some form of justice."
You can share this story on social media: