Nuclear waste trains to carry UK passengers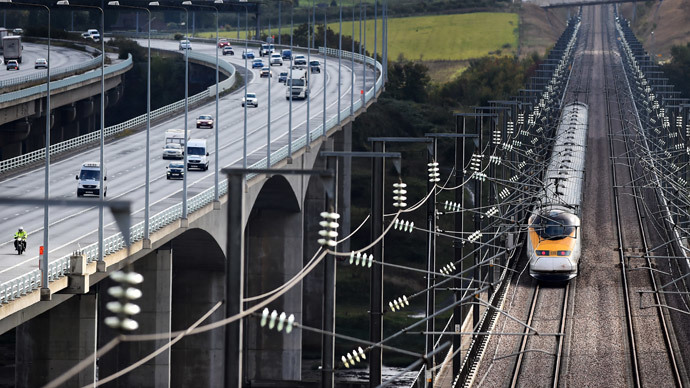 A state-owned British train company that transports the nation's nuclear waste is due to offer a passenger service along the Cumbria coast in northwest Britain, as demand for train travel rises and the UK's railway network struggles to keep up.
Direct Rail Services, a subsidiary of the Nuclear Decommissioning Authority, operates freight trains, and is expected to start passenger services next week, the Financial Times reports.
The Department for Transport reportedly brokered the deal to prevent a crisis due to a shortage of trains in the north of England.
The current diesel trains were to be exchanged for electric trains, but the electrification process has been slower than planned.
Direct Rail Services will use two locomotives that usually haul freight, including radioactive waste.
Neil McNicholas, managing director of DRS, told the Financial Times: "I am very proud to be involved in supporting Northern in delivering its vital services for Cumbria. This shows what can be achieved through a true partnership approach between freight and passenger operators."
READ MORE:UK travel chaos as snow and delayed engineering works wreak havoc
As part of a government deal to boost train capacity on popular routes from Manchester Victoria, commuters will have more trains. Overall, Northern Rail will get 20 four-car electric trains between May this year and February 2016 to run on the new electrified lines.
MP Graham Stringer told the Manchester Evening News: "The government control of the railways is a fiasco. There is going to be a national shortage of rolling stock for the next two or three years which should have been planned for. In particular, the north is getting a shoddy third class deal and we deserve more than London's cast-offs.
"They haven't ordered enough electric trains or any replacement of diesels. There is a huge gap for two or three years. It's shuffling deckchairs on the Titanic."
You can share this story on social media: