Mentions of pork banned in schoolbooks, could offend Muslims or Jews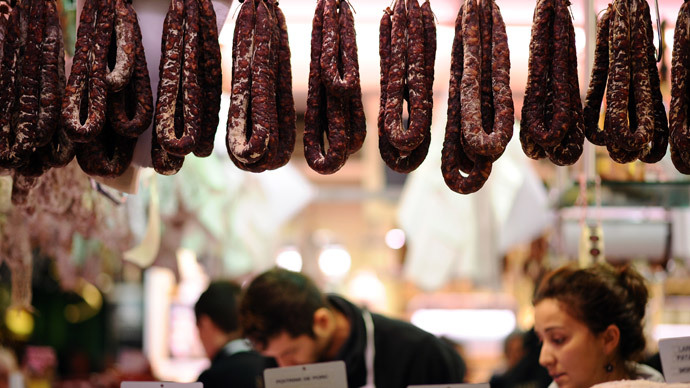 In attempt to avoid offending Muslims and Jews, Oxford University Press have banned authors from referring to "anything pork-related" in their school textbooks.
The UK's leading educational publisher, Oxford University Press, request the removal of references to sausages and pigs in their books.
A spokesperson from the publisher defended the editorial policy, claiming books needed to be "acceptable in other cultures" for them to be exported.
Educational materials produced by the publisher in the UK are sold in over 150 countries. The spokesperson said they need to "consider a range of cultural differences and sensitivities."
These editorial guidelines are intended to make sure the materials can be "disseminated to the widest possible audience."
On BBC Radio 4's Today program on Monday, presenter Jim Naughtie said: "I've got a letter here that was sent out by OUP to an author doing something for young people."
"Among the things prohibited in the text that was commissioned by OUP was the following: Pigs plus sausages, or anything else which could be perceived as pork," he added.
Naughtie described the recommendation made by OUP as "ludicrous" and "just a joke."
Muslim Labour MP Khalid Mamood said: "I absolutely agree [with Naughtie]. That's absolute and utter nonsense." Khalid said when political correctness goes too far, it brings the whole discussion into "disrepute."
Furthermore, he doubts that Muslims or Jews would be offended by mentions of farm animals in a children's book.
A Jewish Leadership Council spokesman said: "Jewish law prohibits eating pork, not the mention of the word, or animal from which it derives."
"How on earth can anyone find the word 'pig' or 'pork' offensive?" asked Conservative Party MP Phillip Davies.
"No word is offensive, it is the context in which it is used that is offensive."
"One good thing to come out of the Paris terror attacks was a groundswell of support for freedom of speech," he told the Daily Mail.
"The political correctness brigade appear to have taken control of our schools," he added.
Davies believes the Secretary of State needs to "get a grip over this" and hopes the "ridiculous ban is stopped at once."
You can share this story on social media: