Tory-Labour 'grand coalition' could happen – Lib Dem minister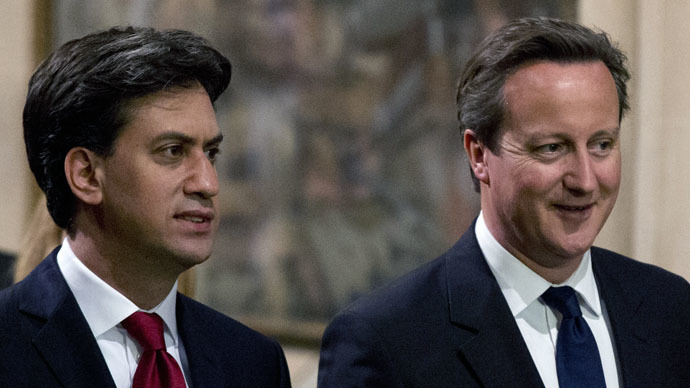 A "grand coalition" of the Labour and Conservative parties could be formed after the general election in May if neither party is able to secure a majority, Business Secretary Vince Cable has claimed.
The Liberal Democrat minister said his party had to prepare for the UK's two major political parties forming a government together.
Cable said the Lib Dems should be prepared to lose power after the election, claiming it was necessary to consider every possibility.
Speaking to guests after recording last week's BBC Question Time, Cable said: "We may have to prepare ourselves for the possibility that we won't be in the coalition at all, that there will be a grand coalition between Labour and the Tories instead."
When asked if this was his prediction, he said: "It's one of the possibilities we should be preparing for."
"It's not something I'm advocating, as it would put me out of a job. But we need to consider all of the possibilities," he said.
Cable isn't alone in his speculation. A former speechwriter to the prime minister has argued that the two parties have more in common with each other than they do with "insurgent" parties such as UKIP.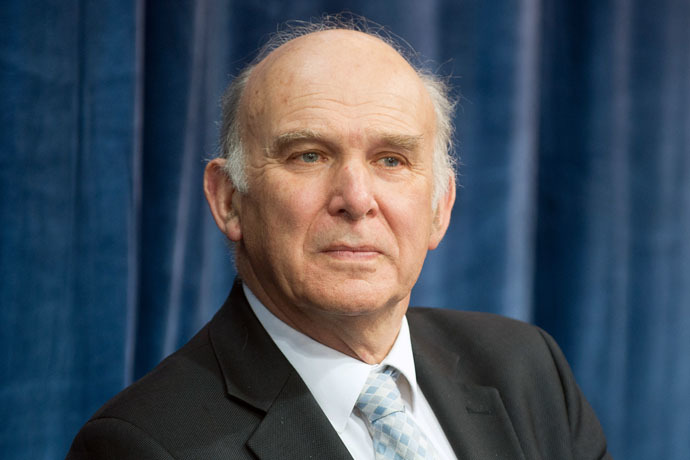 "A government of national unity between Labour and the Conservatives may sound far-fetched, especially amid the froth and fury of a nascent election campaign," Ian Birrell wrote in the Guardian last week.
"Yet, while there are serious disagreements, the two parties have more in common with each other than with the insurgents on many key issues – especially if David Cameron survived and Miliband was replaced by someone such as [Shadow Business Secretary] Chuka Umunna," he said.
Birrell suggested the two parties may actually complement each other.
"Labour remains marginally ahead but is distrusted on economic matters and held back by a leader who commands little confidence."
"The Tories have the most trusted leader, even on the sacred health service, yet voters think they care only for the rich, and remain wary of their stewardship of public services."
Is it possible that together they could command the trust of the British public?
Labour's support for the Govt's Charter for Budget Responsibility is the "start of overtures" towards a grand coalition, says @mowat4ws

— Lindsay Jane Watling (@LJWatling) January 13, 2015
@AngusMacNeilMP the grand coalition idea gets more feasible by the day

— gerard carey (@carey_gerard) January 13, 2015
The idea of a Tory-Labour coalition was first mentioned in Parliament by Conservative MP Richard Bacon in February 2014.
Bacon joked that Cameron – who was about to meet Angela Merkel – should follow the German Chancellor's example and form a "grand coalition" with Labour's Ed Miliband.
Cameron dismissed the idea: "There are many things she has achieved I would like to copy, not least getting re-elected," he said to laughter in the Commons.
"[But] I think the idea of a grand coalition is a bit too much for me."
At that time it was all a great joke. But as May approaches, the suggestion has somewhat lost its comic appeal.
In the run-up to what many are describing as the most unpredictable election in a generation, voices on both sides of the political spectrum have touted the idea.
Westminster discussing 'grand tory/labour coalition' even more reason to vote #snp#green

— ali (@alibali50) January 13, 2015
I'm starting to think this 'Grand Coalition' between CON and LAB *might* happen due to all this media talk.

— Daniel Furr (@DanielFurrUK) January 13, 2015
Writing in the Spectator in October, journalist Mary Dejevsky said: "A Conservative-Labour coalition might seem to go completely against the grain of Britain's adversarial politics. But it has been observed time and again in recent months that Cameron, Miliband (and Clegg) have a significant amount of political ground in common."
"Center-left and center-right are not so very far apart," she added.
While rare in the UK, power-sharing agreements involving major parties are more common in Germany, where they are called "grand coalitions."
Merkel has led three grand coalitions since first becoming chancellor in 2005.
Con-Lab "Grand Coalition"?Dutch one started in 2012: big 2 pties have lost more than half of their support since, PVV(NL's UKIP) leads polls

— Rob Ford (Britain) (@robfordmancs) January 12, 2015
The idea of a Labour-Tory coalition will be alien to most voters in the UK, but it happened once before – in 1931.
Faced with the crisis of the Great Depression, Labour leader Ramsay MacDonald formed a coalition government with the Conservative Party, the Liberal Party and the Liberal Party.
Labour fared poorly as a result of the 1931-1935 coalition, however, with MacDonald losing all credibility as a politician among Labour voters and stepping down due to ill-health.
No doubt Miliband's aides will hope history doesn't repeat itself, should a grand coalition be on the cards this May.
You can share this story on social media: