​'Disgusting': David Haines beheading picture used in Kalashnikov ad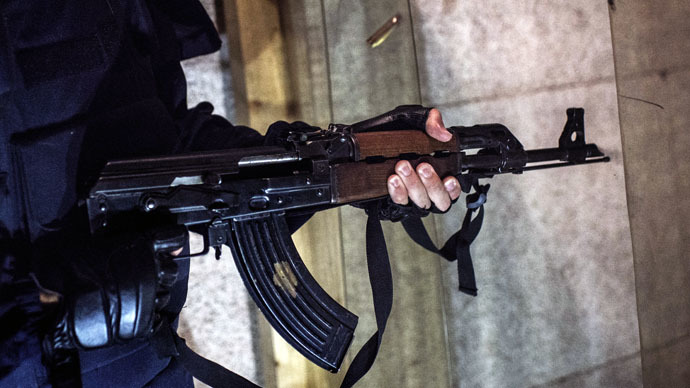 A firearms shop has provoked outrage by using a picture of British aid worker David Haines moments before he was executed by Islamic State killer "Jihadi John" in an advert for Kalashnikovs.
Czech gun store Zeleny Sport came under fire from shocked Twitter users who were disgusted by the insensitive use of the image.
The picture, taken from the beheading video, shows Haines kneeling in the desert in an orange jumpsuit next to his Islamic State executioner, the allegedly British dubbed "Jihadi John" by UK media.
The advert states "with empty hands, you may soon be on your knees," and offers the latest Kalashnikov model.
Haines was brutally executed in September, after being captured in Syria and held hostage by ISIS for 18 months.
The 44-year-old father of two was working for a French relief agency, which provides humanitarian aid to civilians in war zones.
Firearms magazine Střelecká Revue published the ad in January, causing outrage among Czech Twitter users.
"Disgusting," tweeted Peto Tkac.
"What is this??" wrote Eva Samsukova.
"Pinnacle of bad taste," added Pivni ekonomie.
Based in the small Czech town of Vysoké Mýto, Zeleny Sport sells everything from machine guns and pistols to helmets and even bayonets.
READ MORE: 'Keep 1 round for each other': Brits fighting ISIS agree death pact, won't submit to capture
Despite social media protests, the store's manager insisted the advert was "just a bit of fun."
Martin Rudolf, 39, told Czech Radio: "We just wanted to give our customers a laugh."
"We used a very well published picture and we wanted to remind – with a bit of exaggeration – our clients that there can be some situations in our lives when having empty hands is not the best choice.
"I really believe that most of the magazine's readers would have understood it like this."
You can share this story on social media: