US to close major airbase in Britain – Pentagon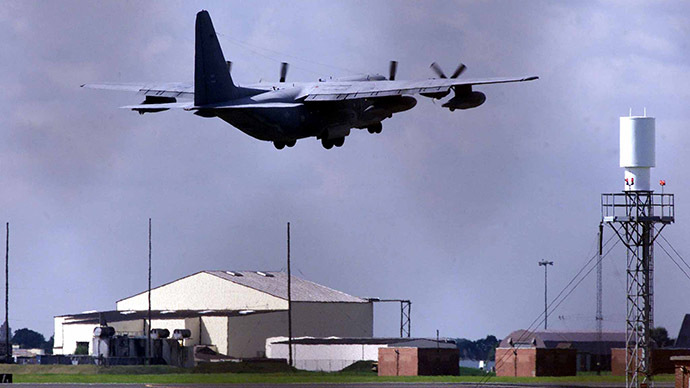 The Pentagon has decided to end operations at an airbase in Britain and 14 other sites in Europe in a bid to save $500 million annually due to tight budgets and a shrinking military.
The US said on Thursday that it would end operations at RAF Mildenhall, located northeast of London. The base is home to tanker, reconnaissance, and special operations aircraft.
RAF Mildenhall was used as a transport hub for US troops. The US will withdraw 3,200 military personnel and their families over the next few years. The net loss of US troops in Britain will be around 2,000, the Pentagon said.
Its 352nd special operations group will reportedly move to Germany, while RC-135 reconnaissance planes will stay in the UK.
The Pentagon is reportedly under orders to reduce projected spending by nearly $1 trillion over a decade.
US Defense Secretary Chuck Hagel said US troops will leave RAF Mildenhall in Suffolk, along with RAF Alconbury and RAF Molesworth in Cambridgeshire.
Hagel said this will result in job losses in the countries affected, but said the changes were necessary to "help maximize our military capabilities in Europe so that we can best support our NATO allies and partners."
Closing RAF Mildenhall will lead to an estimated loss of 1,300 military and civilian posts. Around 2,600 personnel are expected to be relocated to other bases in the UK, and to Ramstein and Spangdahlem airbases in Germany.
"We understand these changes will have substantial impacts on the local areas, but we are dedicated to working closely with our community neighbors, defense partners, personnel and families to ease the impact of these transitions as much as possible," General Frank Gorenc, commander of US Air Forces in Europe and Air Forces Africa, said.
"The RAF Croughton site ensures continuation of the strong US intelligence relationship with the United Kingdom and will result in an exponential increase in US-NATO intelligence collaboration efforts."
Statement from Gen @PMBreedlove on European Infrastructure Consolidation http://t.co/Fys0Cyz4Ee

— U.S European Command (@US_EUCOM) January 8, 2015
However, the Pentagon is planning to add 1,200 personnel and two squadrons of F-35 Joint Strike Fighters at nearby RAF Lakenheath in 2020, which will reportedly compensate for the closure. RAF Lakenheath is home to the US 48th Fighter Wing.
Europe is a critical platform, says Chollet. "Maintaining a strong robust presence in Europe is vital to our national security interests."

— U.S. Dept of Defense (@DeptofDefense) January 8, 2015
British Defense Secretary Michael Fallon has welcomed the US decision to base its new F-35 fighter at RAF Lakenheath in Suffolk.
"The end of US basing at Mildenhall, Alconbury and Molesworth is disappointing, not least to the communities of which US forces have been a part for so long," said Fallon. "However, the advance notice the US have given us, coupled with the investment they are making at RAF Lakenheath and RAF Croughton, will help mitigate the local impact."
"The Department for Business, Innovation and Skills will convene the Mildenhall, Alconbury and Molesworth (MAM) Working Group that brings together the Local Authorities, the Local Enterprise Partnerships, BIS Local, the Ministry of Defence and other key stakeholders to agree how we manage this at local level."
The US has around 67,000 personnel stationed in Europe – most in Germany, Italy, and Britain.
You can share this story on social media: