#JeSuisCharlie: Charlie Hebdo vigil in London's Trafalgar Square after Paris shootings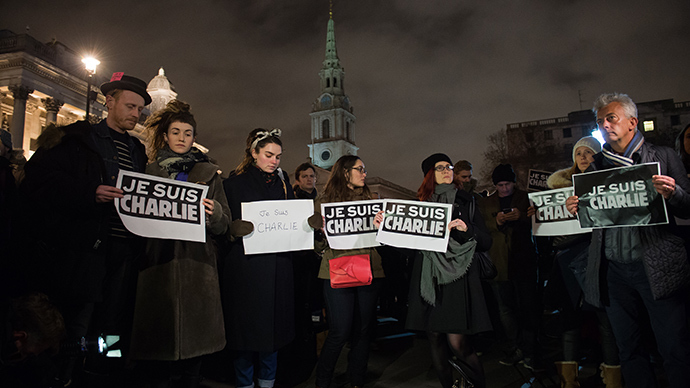 London's Trafalgar Square will host a vigil in solidarity with the victims of Wednesday's Paris shootings in which 12 people were killed. Similar events are being held in other cities around the globe.
Promoted by a spontaneous social media campaign, the London vigil is taking place alongside similar gatherings across the world.
A Facebook page launched in solidarity with the victims and their families describes the vigils as "Peaceful gathering[s] in support of Charlie Hebdo, Freedom of press and peace."
#jesuischarlie at Trafalgar Square https://t.co/Epb22MhilS

— Rupert Myers (@RupertMyers) January 7, 2015
"Against all forms of hatred, the defense of freedom of expression and peaceful tribute to the memory of the victims will be the only two unique demands of this rally."
"We are Charlie and we are united."
Organisers of the Trafalgar Square vigil ask people to bring signs reading "JE SUISCHARLIE" and drawings from Charlie Hebdo.
Crowds starting to gather for the #JeSuisCharlie vigil in Trafalgar Square #C4Newspic.twitter.com/RFiTSpabdb

— Oz Katerji (@OzKaterji) January 7, 2015
On my way to Trafalgar Square to show my support for freedom of speech. #JeSuisCharlie

— Helen Stanton (@Helannsta) January 7, 2015
People have also been encouraged to bring flowers and pens "to celebrate freedom of expression," and have been asked not to bring candles for security reasons.
@RobertPEdwardspic.twitter.com/1IDW3Y432F

— Hussein Kesvani (@HKesvani) January 7, 2015
@RobertPEdwardspic.twitter.com/UCycRkel6z

— Hussein Kesvani (@HKesvani) January 7, 2015
Participants are assembling at the North Terrace in Trafalgar Square.
Journalists in Paris organized a similar event in Place de la Republique which started at 6pm local time.
You can share this story on social media: