Labour councilor suspended over Auschwitz doctored election poster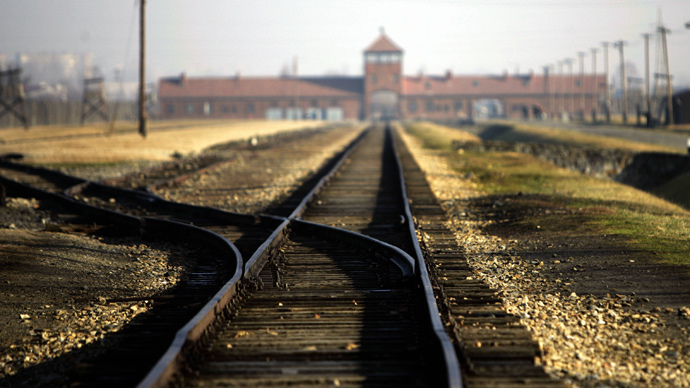 A Labour Party councilor has been suspended for tweeting a doctored Conservative Party election poster, replacing a country 'road to recovery' with an image of a Nazi death camp.
Rosemary Healy, who represents the Mapperly ward at Nottingham City Council has expressed "profound apologies," and insisted she hadn't fully understood what the picture was when she retweeted it to more than 1,500 followers on Twitter.
The post shared by Ms Healy was an altered version of the Conservative poster. The mock version reads: "Let's stay on the road to a stronger economy."
Behind this text is an image of the railway lines leading to the Auschwitz-Birkenau concentration camp, where more than a million people, predominantly Jews, were exterminated during World War II.
Looks like my satirical comment has caused quite a bit of spluttering outrage and controversy. Best retweet it then: pic.twitter.com/ukyJcW1ESz

— Tom Pride (@ThomasPride) January 6, 2015
The altered version was first posted by blogger Tom Pride on his popular @ThomasPride Twitter account.
Ms Healy later deleted her retweet and posted: "Profound apologies for that retweet which was a genuine mistake and would never have been retweeted had I recognised it for what it was."
A Labour Party spokesperson confirmed: "Rosemary Healy has been suspended from the Labour Party."
Once the image went viral, Tom Pride responded to hostile reactions, tweeting: "Please – no more discussions about how outraged you are by my satire. If you don't like it, I promise you I won't make you read it."
The Labour Party confirmed the council's executive assistant for community protection had been suspended amid closer-than-ever scrutiny of politicians' internet postings in the run-up to the general election in May.
The Conservative group leader on Nottingham City Council, Cllr Georgina Culley, told the Evening Standard: "This trivializes the horrors of the Holocaust and I think Councilor Healy and her party should be ashamed."
Tory member Culley said the city council should distance themselves from such tweets, adding Labour member "should have known better."
Culley said the image was "deeply ignorant" and "belittles the Holocaust."
You can share this story on social media: