​Food bank users have 'drug, alcohol & mental health problems' – Tory councilor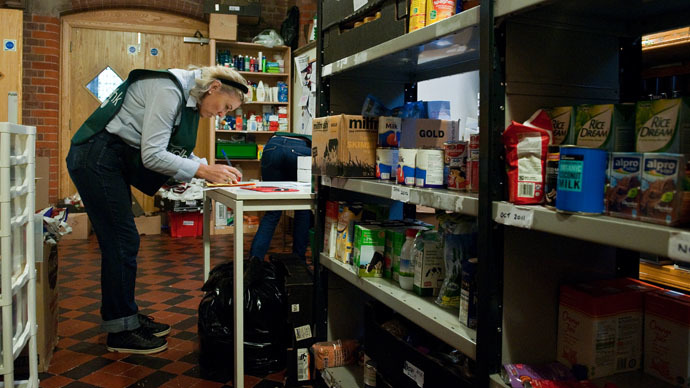 A Conservative councilor has faced a Twitter storm after claiming people who rely on food banks have "drug, alcohol and mental health problems."
Mark Winn, who represents Bedgrove on Aylesbury Vale District Council in Buckinghamshire, made the comments while watching an episode of the BBC drama series Casualty on Saturday night.
Winn, who is also a civil servant with the Ministry of Defence, was reacting to the episode's storyline where a young mother who is suspected of being a drug addict is actually suffering from malnutrition.
In the episode of the hospital drama, a nurse told a woman: "You're not a bad mother. It's the system that's wrong – it's unforgiveable."
Reacting to the storyline, Winn tweeted: "See BBC are up to supporting Labour propaganda rubbish, the people visiting foodbanks are those with drug, alcohol + mental health problems."
Questioned over his comments, Winn told the BBC: "I really should have said 'some' people have addictions or mental health problems that might use food banks."
Twitter users nevertheless responded with fierce criticism.
Has @CllrMarkwinn ever heard that song by Glen Campbell: 'Try a little kindness'? What a contemptible little man. pic.twitter.com/L6j8x2gxVA

— Clark Renney (@ClarkRenney) January 5, 2015
.@CllrMarkwinn you clearly have no idea about those people who have to resort to using Foodbanks - suggest you go and educate yourself!

— Barry Kirby (@Baz_k) January 3, 2015
@pgo1980 @CllrMarkwinn I am not an addict, not mentally ill, and I work. Single mum/2 kids. Need foodbank to survive.

— Deborah (@MamaMoose_Be) January 4, 2015
@CllrMarkwinn It shames this country that people like you are elected officials. You obviously have no idea about how the poorest live.

— Dominic Tristram (@DominicTristram) January 4, 2015
Winn has since deleted the tweet and suspended his account since the backlash, which he described in an interview with the Independent as a "politically motivated campaign" of "abuse" against him.
Phill Gomm, a UKIP Councillor on Aylesbury Vale District Council, described the comments as "inhuman."
"His comments are extremely distasteful and also discriminate against others. A letter of complaint is being made to the AVDC leader requesting his resignation for his inhuman comments," he said.
However Gomm's colleague, UKIP Councillor Phil Yerby, supported Winn's comments.
There is not one #Tory on my timeline supporting @CllrMarkwinn this morning. Shows how quickly all parties dump ppl for political expediency

— Phil Yerby (@philyerby) January 5, 2015
In a statement, Winn said: "I wish to apologize if I caused offense to people with my remark on Twitter regarding food banks."
"I fully appreciate the need for food banks for the use of people in need whatever their personal circumstances and I salute the work that staff in them do. I will be privately visiting a local food bank in the next couple of weeks to see for myself the work they do."
You can share this story on social media: