​UK govt wants nurseries to report potential terrorist toddlers
It may become a "duty" of nurseries and elementary schools in the UK to track and report any child that shows signs of sympathy with terrorists or is a risk of potential radicalization, according to the government's plans aimed at preventing extremism.
A consultation document by the Home Office on ways to enhance the UK's anti-terrorism system, the so-called "Prevent" strategy, calls for senior management and governors to "assess the risk of pupils being drawn into terrorism," manifested through youths' extremist ideas that may breed terrorist ideology.

The nurseries should insure proper training of their staff to give them the "knowledge and confidence to identify" and "challenge extremist ideas which can be used to legitimize terrorism and are shared by terrorist groups," the document stated according to British media. "They should know where and how to refer children and young people for further help."
The new approach of identifying potentially dangerous toddlers should be implemented on non-discriminating basis according to the 39-page consultation document. The document is part of the Counter-Terrorism and Security Bill bundle currently being debated in the parliament. If the strategy is approved it will become a "duty" not only for nurseries but also for other learning institutions.
"Schools, including nurseries, have a duty of care to their pupils and staff. The new duty in the Counter-Terrorism and Security Bill, to have due regard to the need to prevent people from being drawn into terrorism will be seen in a similar way to their existing safeguarding responsibilities," a government spokesperson told The Independent.
Questions remain as to how the new measures will be implemented, with politicians and NGO's speaking out against the heavy-handed tactics.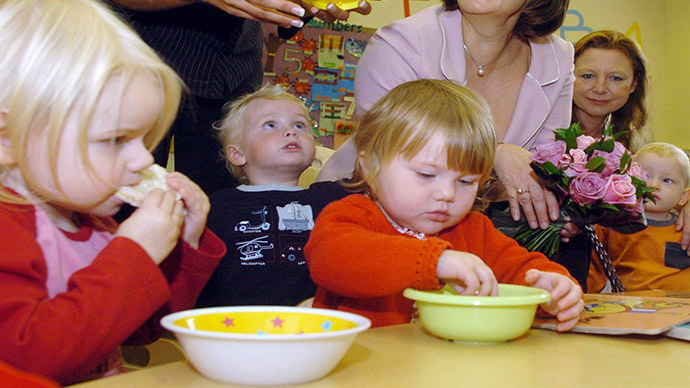 "It is unworkable. I have to say I cannot understand what they [nursery staff] are expected to do," David Davis, the Conservative MP and former shadow home secretary, told the Telegraph.
"Are they supposed to report some toddler who comes in praising a preacher deemed to be extreme? I don't think so. It is heavy-handed," he added.
"Turning our teachers and childminders into an army of involuntary spies will not stop the terrorist threat," Isabella Sankey, the policy director at human rights body Liberty, told the Telegraph. "It will sow seeds of mistrust, division and alienation from an early age."
The government defended itself from the avalanche of criticism saying that privacy of individuals will be protected.
"We are not expecting teachers and nursery workers to carry out unnecessary intrusion into family life but we do expect them to take action when they observe behaviour of concern. It is important that children are taught fundamental British values in an age-appropriate way," a government spokesperson told the Daily Mail.
The controversial Prevent strategy is the main effort by UK government to stop radicalization or people supporting terrorism, in all its forms. Prevent works at the pre-criminal stage by using early intervention to encourage individuals and communities to challenge extremist and terrorist ideology and behavior. Opponent of contemporary counter-terrorist policies say the strategy produces counter-productive effects and often discriminates directly or indirectly against Muslims.
You can share this story on social media: