​Royal Navy warship embarks on mission to combat piracy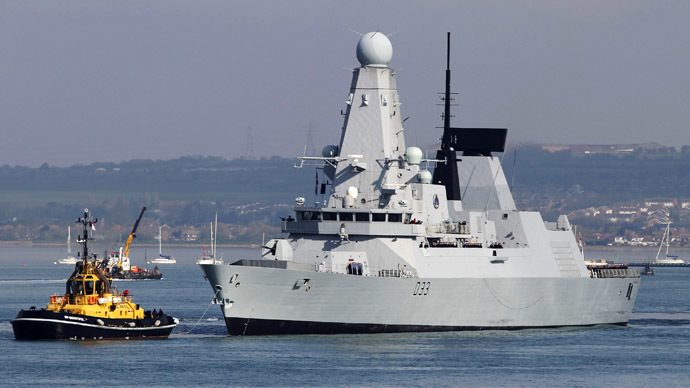 One of the Royal Navy's most advanced warships embarked on a five-month counter-piracy operation on Friday.
HMS Dauntless left Portsmouth Naval Base on a routine deployment to the Gulf, where it will be "deterring piracy and keeping the sea lanes open for free and safe passage of merchant vessels," the Royal Navy said.
The Type 45 destroyer will make several stops in the Mediterranean for training as well as visiting ports in a number of Gulf States to "strengthen ties in the region."
"This will be a high-profile deployment for Dauntless during which we will provide reassurance to the UK's allies in the region, while conducting maritime security and counter-piracy patrols," said the warship's Commanding Officer, Commander Adrian Fryer.
"HMS Dauntless has been through intense training to be in a position to undertake this deployment and I am immensely proud of my ship's company."
HMS Dauntless will also visit the Dardanelles to take part in centenary commemorations of the ill-fated Allies' 1915 Gallipoli campaign in World War I.
The warship returned to the UK on December 5 after a seven-month deployment in the Arabian Gulf and Indian Ocean.
HMS Dauntless had reportedly been involved in maritime security operations, including counter-piracy, counter-drugs, escort duties and international exercises. All missions were aimed at disrupting illegal use of the sea and ensuring freedom of navigation and trade, the Navy said.
On its mission, the warship's personnel investigated vessels for narcotics, weapons and intelligence. The Royal Marines on board also performed joint training drills with the US Marine Corps in Bahrain and a joint anti-submarine exercise with the US Navy.
On its last deployment, the ship visited Gibraltar, Crete, Bahrain, Dubai, Fujairah, India, Oman, Malta and Portugal over seven months.
In October 2013, an international counter-piracy task force including Royal Navy personnel stopped a group of Somali pirates. It came after pirates attacked a supertanker and a Spanish fishing vessel off the Somali coast.
In January 2012, the Royal Navy captured 13 Somali pirates and seized weapons in the Indian Ocean.
After the successful operation, Defence Secretary Philip Hammond said: "The Royal Navy and Royal Marines are playing a crucial role in securing and protecting international sea lanes that are vital to global trade. This operation off the coast of Somalia is a clear demonstration of Britain's ability to tackle piracy that threatens our interests."
Even civilians have decided to take matters into their own hands to combat piracy. In June 2013 four Britons, who sailed a converted former navy warship to Africa on an "anti-piracy" mission, were arrested off Senegal. The group was led by former Royal Navy submariner Chris Enmarch, who set out with his "business venture" to combat piracy.
Their 127-foot Defender, a former Oman Navy fast-attack gunboat, had already been impounded by Spanish authorities before their arrest. They were reportedly headed to the Gulf of Guinea, where piracy is widespread, to offer security to oil rigs.
Enmarch, who bought the ship in 2011, said they were traveling to Senegal "to discuss with the authorities the possible use of the Defender as a deterrent against illegal fishing boats."
He had told the Maldon Chronicle newspaper: "Defender's task will be to deter any pirates intent on boarding the many ships that pass the East African coastline. She will be manned by handpicked ex-Royal Marine Commandos and run as a professional naval ship, obeying the rules of engagement."
You can share this story on social media: