'Non-standard landing': Virgin Atlantic flight touches down safely at UK airport (VIDEO)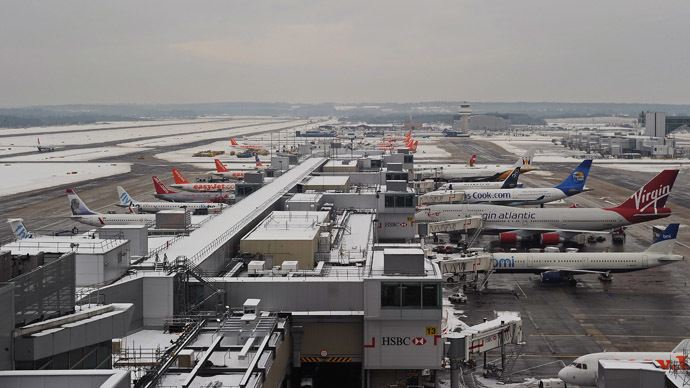 A US-bound Virgin Atlantic plane has made a "non-standard landing" at London's Gatwick airport, after a problem with its landing gear forced it to turn back. Television pictures show the plane is intact and stationary on the runway.
"Virgin Atlantic can confirm that flight VS43 has landed safely back at Gatwick," the company said in a statement. "Our priority now is to look after our passengers and crew."
Television showed the landing was bumpy, but otherwise regular. Gatwick airport had their emergency services on standby.
Looks like 1 set of gear stuck RT @SamPilcher From the back of my camera the state of VIR43E undercarriage on its fly pic.twitter.com/p824J0t3UW

— Jason Rabinowitz (@AirlineFlyer) December 29, 2014
Flightradar24.com, a flight tracking site, has identified the aircraft as a Boeing 747. It was supposed to fly to Las Vegas and left at 1128 GMT, but turned around after a fault was discovered.
Pictures of the aircraft posted on Twitter showed the landing gear under the right hand wing was not operating correctly.
#VS43 coming in for it's approach to London Gatwick? pic.twitter.com/851uzjmeS6

— Plane Finder (@planefinder) December 29, 2014
A passenger on the plane told ITV News others on board the flight were crying as the plane prepared to make an emergency landing at Gatwick Airport.
24 year-old Dan Crane from Worcestshire said the atmosphere on the aircraft as it circled the airport was acutely "anxious."
"A lot were worried, some crying. The mood was quiet and (we were) just waiting for the captain's next announcement," he said.
He emphasised, however, the crew ensured the passengers remained informed.
"They said it was an emergency landing and we had to brace on impact," Crane added.
Following Virgin Atlantic flight VS43's safe landing, a passenger on board the aircraft praised the crew and pilots for getting the plane safely to Gatwick's runway despite problems concerning its landing gear.
Speaking on Sky News, Mike Kaufman said: "This was one of the greatest emergency landings in history. It was very smooth."
"The fact everything went so well shows just how professional the flight crew were."
Following the pilots' discovery the aircraft's landing gear was not operating adequately, all passengers on board the plane were given a safety briefing.
When passengers realized the plane would be able to land, their relief was almost palpable, according to Kaufman.
The jet had been circling off the south coast of England for two hours to burn off fuel, according to eyewitnesses.
Virgin Atlantic has never had a fatal incident. In 1997, the landing gear on one their Airbus A340-300 jammed and the plane was forced to make an emergency landing at Heathrow.
The company is 51 percent owned by its founder, British billionaire Richard Branson and 49 percent owned by US carrier Delta Air Lines. It operates from the UK to North America, the Caribbean, Africa, the Middle East and Asia.
The Boeing 747 is generally regarded to be a safe aircraft, although because it has been in such wide use all over the world for over 40 years there have been 49 serious incidents involving the plane. However, of these only a handful has been attributed to design flaws and technical problems on the plane itself.
You can share this story on social media: