Russians abandon London real estate as recession looms over Moscow
Published time: 19 Dec, 2014 12:55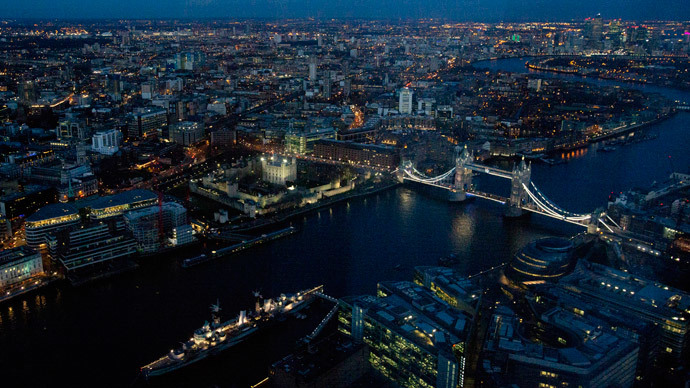 Russia's economic crash, driven by the plunging price of oil and tough Western sanctions, is prompting well-off Russian investors to abandon London's property market. Money from super-wealthy Russian oligarchs, however, continues to flow into Britain.
The city's mainstream property market – dominated by homes that cost up to £5 million – has taken a beating over the past 12 months, marked by a 70 percent drop in the number of wealthy Russian homebuyers, property specialist Christie's International Real Estate suggests.
This trend is not replicated at the higher end of the market, however, as extremely affluent oligarchs continue to purchase homes in Britain worth £20 million or more.
In a live press conference on Thursday, President Putin reassured Russians that the beleaguered ruble, which has plunged over 40 percent against the dollar in the past year, is on the path to stability.
Commenting on the manner in which Russia's economic turmoil is affecting patterns of Russian investment in London's property sector, Giles Hannah of Christie's International Real Estate told the Times two definitive categories of Russian buyers exist.
"Today there are two markets for Russian buyers in London — the £20 million buyers and the mainstream market up to £5 million," he said.
Hannah, who has offered advice to Russians regarding London property deals amounting to £180 million, suggested each market is performing differently at present.
The most expensive properties valued above £20 million are characterized by a solid market, as moneyed Russians continue to invest in the sector in an effort to store their money securely abroad in the face of economic turmoil at home, he said.
But the "sub-£5 million market" is characterized by a steep decline in Russian investment in the wake of the ruble crisis, concerns about western sanctions and increasing difficulties in channeling funds from Russia to Britain, he added.
Russian investment exodus?
David Adams, a luxury property specialist from real estate firm John Taylor London, argues Russian homebuyers are vanishing from Europe.
"The number of Russians buying property in London has diminished, as expected, with the fall of the ruble because people just cannot see the value in paying 40 percent more for a property they could have got for less before the ruble fell," he told the Times.
Russia is embroiled in its most severe economic crisis in 16 years, badly affected by Western sanctions on businesses and individuals in retaliation for President Putin's annexation of Crimea and the situation in eastern Ukraine.
Yet super-wealthy Russian oligarchs, whose wealth has flourished since communism fell, appear to be largely immune.
Global property firm, Knight Frank, estimates such moneyed Russians were responsible for over 20 percent of home purchases that eclipsed £10 million between April and October of this year.
This marked a 10 percent hike on the previous six months, the estate agent told the Times.
Giles Hannah of Christie's International Real Estate told the paper London's luxury property market draws wealthy Russian investors looking to relocate to a country with top quality infrastructure, education, and a more politically-stable environment.
Among the oligarchs investing in luxury UK property is the owner of Chelsea Football Club, Roman Abramovich. Abramovich doled out £90 million in 2011 for a mansion on Britain's most expensive street in West London. The extravagant property is thought to contain over 15 bedrooms and sprawling gardens.
Uzbekistan-born oligarch Alisher Usmanov, Russia's richest person, paid £48 million for a lavish mansion in north London, while finance magnate Andrey Goncharenko parted with £120 million for the costliest townhouse in the UK.
Christie's International Real Estate says the most prolific investors in London's sub-£5 million property market stem from Saudi Arabia, Qatar and France.
Moscow has been in the grip of drama and speculation over the past week, as the ruble plunged 16 percent against the dollar in a mere 48 hours. The crisis was reminiscent of Russia's 1998 economic meltdown, which caused the state to default on its national debt.
Addressing Russians on Thursday, Putin firmly denied that Russia would engage in capital controls in light of the crisis. He pledged to offer assistance to the state's struggling corporate sector.