Russia not fit to be part of international financial system – Cameron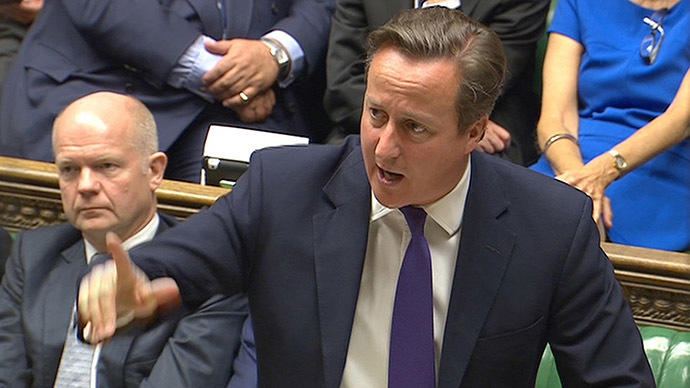 The combined effect produced by Western sanctions and low oil prices proves that there's no place for Russia in the international financial system, believes British prime minister David Cameron, urging for more pressure on Moscow.
"We should stand up very firmly against the Russian aggression that's taking place," Cameron said before the Parliament on Wednesday.
The PM reminded that it's the UK, which "led the way in Europe in making sure there were sanctions" imposed against Russia over its 'annexation' of Crimea in March and Moscow's alleged involvement in the Ukrainian crisis.
"And what the combination of the lower oil price and the sanctions are showing that I think it isn't possible for Russia to be part of the international financial system, but try and opt out of the rules-based international legal system," Cameron said.
"We should keep up the pressure," the head of the British government added, agreeing that "in this respect the interests of the United Kingdom and democracy do go together."
The EU is expected to announce a new round of sanctions against Russia on Thursday, during the European Council's meeting in Brussels. According to Reuters, the restrictive measures will forbid EU firms from investing in the Crimea and prohibit the trade of European oil and gas exploration technologies from the EU to the region.
READ MORE: Obama already signed new 'Russia sanctions bill' – State Department
Meanwhile US President Barack Obama has already signed a legislation authorizing new sanctions on Moscow, targeting weapons companies and investors in Russian high-tech oil projects. The sanctions, however, will not be effective immediately since Obama has been hesitant to introduce any new restriction without prior "synchronization" with European partners.