'Deport immigrants to Africa' – rightwing Swinton Circle, addressed by Tory MPs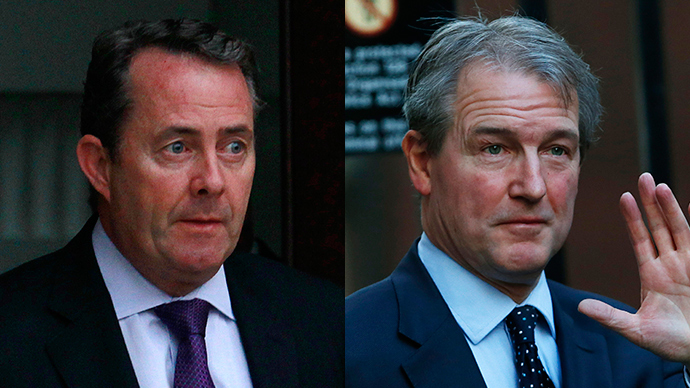 Leading Conservative Party lights have come under fire for giving speeches before a Tory fringe group that advocates mass deportation to Africa as a solution to immigration.
Former Cabinet ministers Liam Fox and Owen Paterson spoke to the rightwing group this year, despite its advocacy of extreme views, including the mass deportation of immigrants to Africa, and suggesting that women and men are not equal.
The London Swinton Circle was established in 1961, claiming to support traditional Conservative and Unionist principles.
Its online newsletter courts controversial opinions, arguing Islam by its nature is not peaceful and even using the racially insensitive term "Negro migrants" to describe African immigrants.
The group also claims to have been addressed by Tory MP Christopher Chope, in addition to authors, journalists and other political commentators.
Chairman Allan Barrie Robertson is also founder-editor of Tough Talking from the Right, a newsletter which has campaigned against gay marriage and climate change "scaremongering."
Sam Swerling, a prominent activist in the group, according to Searchlight magazine, is a former British National Party (BNP) member and a current member of the British Democratic Party (BDP).
The London Swinton Circle advocates the UK's exit from the EU, national sovereignty and the restoration of capital punishment. Its February 2014 newsletter discusses Prime Minister David Cameron's Immigration Bill in light of historical attempts to deport African migrants living in London to Sierra Leone.
"Whilst only a few blacks were actually transported, the episode serves as a precedent," the newsletter said. "As the principle of the mass movement of people is accepted by all the mainstream parties, then would it not be difficult to argue against the mass movement of people from Britain to, say, some part of Africa?"
A newsletter from November 2013 features an article by Rev Dr Alan Clifford, which argues that Islam as a religion is not peaceful.
"The only difference between moderates and militants is between those who keep their mouths shut and those who don't!" Clifford wrote.
Clifford was accused of making homophobic comments in 2013 after he sent an open email to organizers of the LGBT festival Norwich Pride with a leaflet titled, "Christ Can Cure – Good News for Gays."
While Prime Minister Cameron has committed his party to ending the pay gap between men and women, this Tory fringe group argues against the very idea of the two sexes being equal.
An article from its June 2012 newsletter reads: "Egalitarians may well proclaim men and women as equal and pass laws forcing people to treat men and women as if they were sexless men, but that does not mean they actually are."
A May 2012 newsletter went even further, stating: "Without a husband a woman is but a sexual object to be shared around."
Members of Nigel Farage's UKIP have also addressed the London Swinton Circle in recent years, the group claims.
With UKIP continuing to draw voters away from the Conservatives, observers will wonder whether the Tories' traditional support base is more closely aligned to these controversial views than the party leaders would like to admit.
You can share this story on social media: