Counter-propaganda! Anti-police posters skewer London Met 'racism'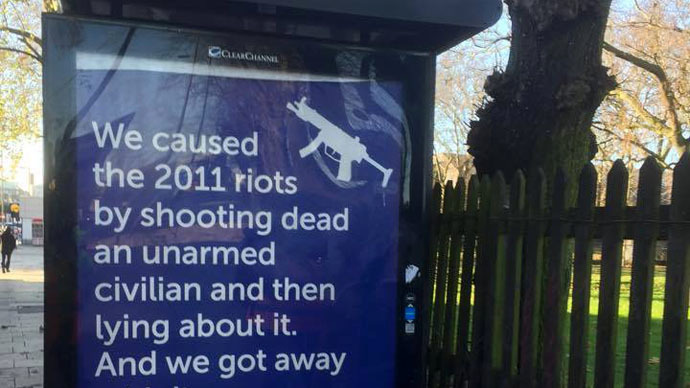 A series of satirical posters targeting the Metropolitan Police's perceived racism have emerged on bus shelters in central London, highlighting dark policing statistics in a mock-up of real Met posters.
The City of London Police say the posters do not relate to them, while the Metropolitan Police claim they are "aware" of their presence.
The first poster, which appeared on Saturday at a bus stop in Whitechapel, says: "You're 28 times more likely to be stopped and searched in London if you have non-white skin, because we're still really racist."
"@Tippademus: Whose putting these up around London? pic.twitter.com/71MxzNpwl1" <strike magazine

— Red Velvet (@riri29xx) December 14, 2014
Other posters found in Angel and east London locations condemn the police for allegedly instigating the riots in 2011 after the shooting of Mark Duggan.
Duggan's killing was upheld as lawful earlier this year.
All of the posters feature a mock-insignia of the Met Police, which reads "City of Racist Police."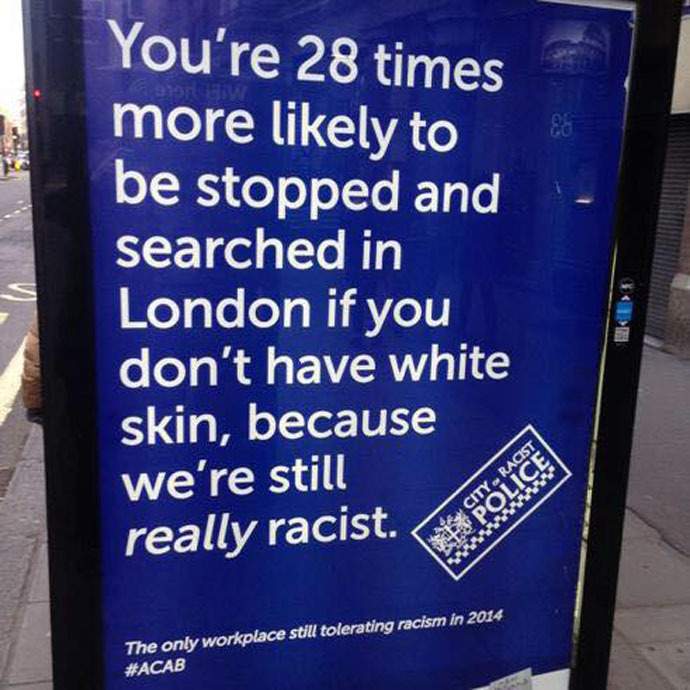 While the posters do not acknowledge their creators, it was later discovered that Strike Magazine is responsible for them. They are freely available on the magazine's website.
Strike has yet to comment on the posters, but its website describes the satirical designs as "counter-propaganda." It calls the Met's own posters "propaganda pure and simple."
"They want us to forget that they murdered Mark Duggan, an unarmed civilian, and caused the 2011 riots [and] they'd rather you didn't talk about being 28 times more likely to be stopped and searched in London if you don't have white skin."
Excellent work by Strike Magazine to make use of public space and challenge narratives and inject politics into... http://t.co/Cibz9yQfdA

— London Black Revs (@LondonBlackRevs) December 13, 2014
In London, however, a person of ethnic minority is actually 6.6 times more likely to be stopped by police. The poster's figure is likely to have come from findings in the Equality and Human Rights Commission report, and may actually refer to the West Midlands Police.
Strike also says the posters are intended to raise awareness of widespread police corruption.
"If the heavily redacted Operation Tiberius report is anything to go by, they definitely don't want you to know about the 42 corrupt senior Metropolitan Police officers caught literally letting criminals get away with murder. Their entire barrel is rotten, so they want to keep the lid tight shut."
"To redress the balance a bit, we came up with our own posters. They're available for you to freely download and distribute – help us spread the word and print yourself out some counter-propaganda today!" the website adds.
We've heard reports of Met officers trying to stop members of the public taking photos of the ads and even... http://t.co/B1vOnQY9hW

— STRIKE! magazine (@strikeyo) December 15, 2014
There have since been reports of attempts to remove the posters, but the claim has not been verified.
The posters follow a Twitter campaign created in solidarity with those outraged at the police killings of Mike Brown and Eric Garner. Using the hashtag #CrimingWhileWhite, the campaign is aimed at highlighting the discrepancies between the way police treat white and non-white offenders.
#CrimingWhileWhite Smoked weed in front of an officer at 420, Hyde Park. They walked past and apprehended a black man smoking a joint.

— Kieron Alexander (@StonedKieron) December 15, 2014
Ima jus leave this here #CrimingWhileWhite@TheAnonMessagepic.twitter.com/Dfw2b9j22Z

— BlackNProud (@miss_b16) December 15, 2014
You can share this story on social media: