London airspace reopens after network failure at ATC, traffic restricted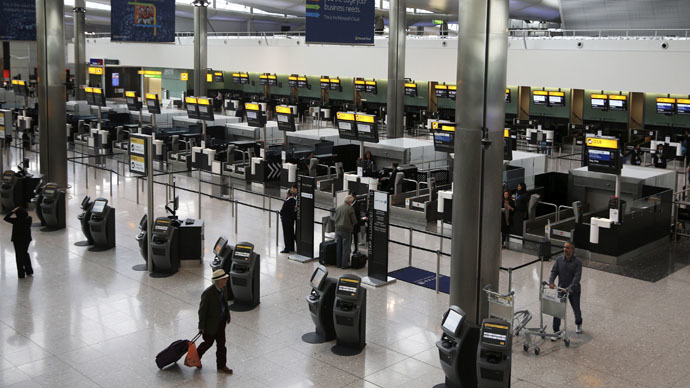 Dozens of flights to and from Heathrow airport were delayed or cancelled due to a power outage at air traffic control, European air traffic control authority Eurocontrol said on Friday. London airspace was briefly closed.
Heathrow, which is the UK's busiest airport, reported earlier: "There is a power outage at the NATS control center in Swanwick which is affecting UK airspace."
"Flights are currently experiencing delays. We will update passengers as soon as we have more information."
However, the technical issue that caused the power outage has been resolved, according to the National Air Traffic Services, which is the UK'sofficial air traffic control body.
"Following a technical failure at Swanwick, the system has been restored and we are in the process of returning to normal operation" a NATS spokesperson said.

"We apologise for any delays and the inconvenience this may have caused".
All parts of British air operations are expected to return to normal over the next two hours.
— NATS (@NATSPressOffice) December 12, 2014
While there has been no official statement from Heathrow airport, according to most reports, the delays in flights were caused by a computer problems which reduced the capacity of NATS to direct flights into and out of London.
The airport says 50 flights have been cancelled, but the number is expected to rise.
During cancellations, a number of flights were held over the English Channel.
Airspace is open. We're restricting traffic volumes in accordance with capability we currently have in our system.

— NATS (@NATSPressOffice) December 12, 2014
"The system is back up and running now," spokesman Martin Rolfe told the BBC. "Over the course of the next couple of hours all parts of aviation infrastructure will start getting back to normal -- the airports, the airlines and air traffic."
"At this stage we are still investigating the cause."
Airlines have warned that delays will continue as flights into and out of London are rescheduled.

"We are working hard to look after our customers who have been affected by the air traffic control failure experienced by all airlines at Heathrow, Gatwick and London City airports," a spokesperson from British Airways said.

"We anticipate disruption to both departing and arriving flights but will do all we can to minimise any impact. We will endeavour to keep our customers informed of the status of their flight but we would urge anyone with a flight booking to check ba.com before leaving for the airport. If you do not wish to travel from Heathrow, Gatwick or London City this evening we are offering our customers the opportunity to rebook their flight to a later date or a full refund."
Manchester Airport meanwhile says it is unaffected by the airspace closure and claims it is ready to accept any London bound diverted flights.
Transport Secretary Patrick McLoughlin has demanded an explanation for the "simply unacceptable" aviation disruption.
"Any disruption to our aviation system is a matter of the utmost concern, especially at this time of year in the run up to the holiday season," he said in a statement. "Disruption on this scale is simply unacceptable and I have asked NATS for a full explanation of this evening's incident.
"I also want to know what steps will be taken to prevent this happening again," he added.
Very few planes coming into land at #Heathrow now. It's all gone eerily quiet.

— Sharron Ward (@KatalystProds) December 12, 2014