Archbishop of Canterbury: Food poverty in UK 'more shocking' than Africa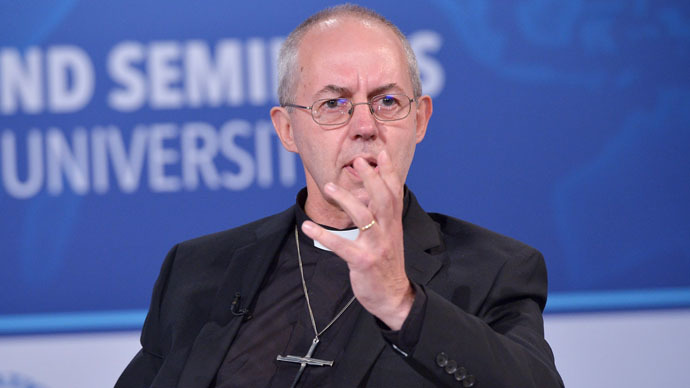 The senior bishop of the Anglican Church, Justin Welby, has called for a radical overhaul of the country's welfare system, to ensure that the 'hunger that stalks large parts of our country' is eliminated.
In a public appeal featured in the Mail on Sunday, the Archbishop of Canterbury compared two stories – one of malnourished children in the Congo, fleeing militias, the other of a British family receiving food parcels, something more than 900,000 Britons have done in the past year.
Last year our #foodbanks gave 3 days food to 913,138 people - 330,205 were children #HelpStopUKHunger#WorldFoodDaypic.twitter.com/E3qjqaoLeK

— The Trussell Trust (@TrussellTrust) October 16, 2014
"I was talking to some people – a mum, dad and one child – in a [UK] food bank. They were ashamed to be there. The dad talked miserably. He said they had each been skipping a day's meals once a week in order to have more for the child, but then they needed new tyres for the car so they could get to work at night, and just could not make ends meet. So they had to come to a food bank. They were treated with respect, love even, by the volunteers from local churches. But they were hungry, and ashamed to be hungry," wrote Welby.
READ MORE: Average UK family just '2 weeks away from breadline' - report
Welby writes that while the struggles of the Congolese were "deeply shocking but, tragically, expected" he found the predicament of working families going hungry in a wealthy Western country "even more shocking."
Archbishop Welby used his address to endorse the All-Party Parliamentary Inquiry into Hunger and Food Poverty, a report compiled by prominent politicians, churchmen and public figures, which is due to be released on Monday.
"The group has undertaken careful research with colleagues from across the political parties to find out what is happening behind the stories we hear of hunger and of people turning to food banks in increasing numbers," wrote Welby.
"It has delved deep into the issues raised and the findings paint a stark picture: hunger stalks large parts of our country."
The inquiry, which has been obtained by the Sunday Mail, proposes a rise in the minimum wage, new extra-large food banks, which would also dish out advice about how to efficiently claim benefits, and less strict benefit delay policies, which are the primary reason people are referred to food banks in the first place.
It also suggests redistributing some of the supermarkets' food waste to charities and needy individuals.
"The scale of waste in this country is astonishing," Welby wrote, pointing out that 15 million tons of food are discarded annually in the UK.
"The big names in the food business have a moral obligation to communities. We need to make sure that the financial incentives in their industry don't act against their moral instincts."
Almost 500,000 people were given 3 days' emergency food from TT #foodbanks in April-Sept 2014 >http://t.co/87jj9dbH1ipic.twitter.com/kTb1ppYiCt

— The Trussell Trust (@TrussellTrust) November 24, 2014
It appears unlikely the Coalition government, which has treated food banks as a political embarrassment, will follow the recommendations.
Earlier this year, Prime Minister David Cameron turned down £22 million from the EU to be spent to food for the most needy.
Welfare Minister Lord Freud has speculated that the proliferation of food banks – some operated by charities with political agendas – has caused their popularity, not necessarily genuine need. Conservative MP Paul Maynard said that food banks, which require recommendations from officials or community figures to be used, should "not become part of the welfare state."
Another Tory MP, Guto Bebb, said that "there are some who appear to use food banks while being able to smoke and pay for a Sky TV package."
National statistics from last year show that 62 percent of all Britons over 20 are overweight or obese. Previous official studies showed that the lower the income of a family, the more likely its members are to be overweight.