Autumn austerity: Osborne asks to 'finish the job,' accused of unreality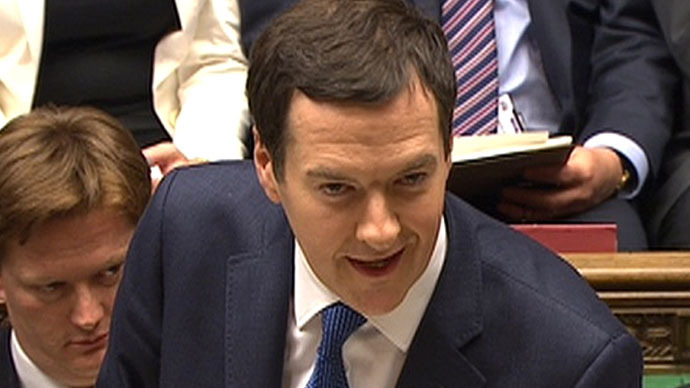 British Chancellor George Osborne unveiled his final Autumn Statement of this parliament on Wednesday, arguing he was on course to reduce the UK's budget deficit and that his austerity policies had strengthened the economy.
Speaking to MPs on Wednesday, the Chancellor said the UK was the "fastest growing economy in the G7," forecasting a growth rate of 3 percent in 2014, compared to the 2.7 percent predicted earlier this year.
"Four years ago, I presented accounts of an economy in crisis. Today I present a forecast showing the UK is the fastest growing of any major economy in the developed world," he told MPs.
"We have higher growth, lower unemployment and a deficit half of what we inherited. Britain faces a choice. Do we squander the gains ... or do we finish the job?"
Osborne also claimed he had cut the deficit "in half" since 2010, as he affirmed that overall borrowing had fallen by more than £6 billion since last year, while predicting that Britain would have a surplus of £23 billion by 2020.
Additionally, Osborne claimed he would impose a 25 percent tax on the profits of multinational companies in the UK, in order to retrieve more than £1 billion in lost revenue due to offshore tax avoidance.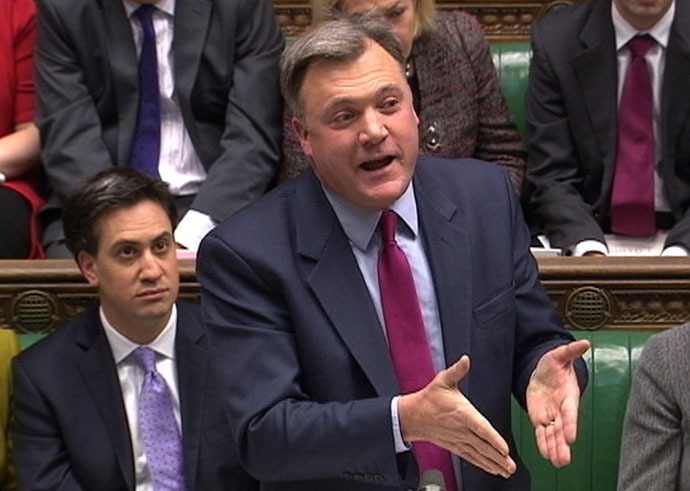 Banks that were involved in causing the financial crisis are expected to pay up to an expected £4 billion over the next five years, while £1.2 billion in fines from banks involved in the recent Libor scandal would be invested in GP services across the country.
However, the opposition Labour Party criticized the Chancellor, claiming he was misquoting the facts and presenting an image of the British economy that was divorced from reality.
Shadow Chancellor Ed Balls said overall government borrowing had increased by £12.5 billion over two years. Citing figures from the Office of Budget Responsibility (OBR), an independent Treasury watchdog, Balls said the government had borrowed £219 billion more than they had forecast at the beginning of the parliament.
He also noted that despite the growing economy, wages were failing to rise in line with inflation for "52 of 53 months," adding that "for working people, there is a cost of living crisis."
In its own review, the OBR estimated real wage growth would return to a "meaningful" level in 2015, although it would not return to pre-2008 levels for several years.
"Meaningful real wage growth is expected to resume in 2015, although the measure of real earnings in our forecast does not return to its pre-crisis level within the next five years," the report says.
While Osborne was praised for reducing stamp duty on houses worth less than £1 million, others also slated him for failing to address unaffordable rents, rising homelessness and stagnant wages for workers.
"Nothing in today's Autumn Statement will give Britain a pay rise, and Conservative plans to effectively outlaw strikes will help make Britain permanently low-paid. Wrapping up last year's infrastructure presents and giving them to us again will not give the economy the extra boost it now needs," said Trade Union Congress general secretary Frances O'Grady.

"The way to heal the public finances is to build a strong growing economy in which successful companies and well-paid workers pay fair taxes. Pre-election giveaways today under this Chancellor will lead to even bigger spending cuts now that the global economy looks increasingly fragile".

"This is economic self-harm, threatening a vicious circle of further decline. That would be Groundhog Day all over again – the same mistake that the coalition made in its first two years" she added.