'Come home': Sister of absconded British jihadist speaks out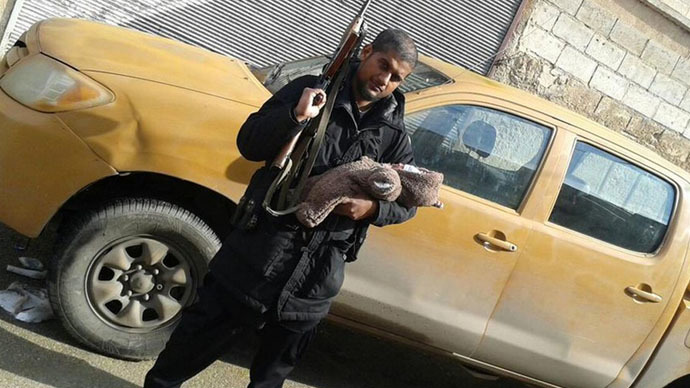 The sister of a British jihadist fighting for Islamic State has made a public plea for his safe return, even if it means facing a prison sentence.
Siddhartha Dhar, also known as Abu Rumaysah, was arrested in September with the radical cleric Anjem Choudary, but escaped the UK while on bail and joined Islamic State (ISIS/ISIL) militants in Syria.
His sister Konika Dhar has spoken out after a photo on social media showed Rumaysah holding his newborn son in one arm and an AK-47 in the other, boasting about his successful evasion of British authorities.
Konika Dahr told ITV News that she was "absolutely devastated" that her brother had fled the country, saying that prior to his radicalization he was "kind and generous."
She blamed Choudary's teachings for her brother's extremism, and addressed him directly, saying: "I'm sorry if you think Anjem Choudary is your role model, because he's not."
Konika Dahr further said that the prospect of prosecution should not deter Rumaysah from returning.
"I still believe that being in prison would be better than where he is now, and I want him to realize that as well because his perception of the repercussion is slightly distorted and not accurate and he needs to know that, it's not that bad and things will be okay if he just speaks to us and lets us in a little," she said.
The photo that appeared on social media on November 26 was captioned "with my newborn son. #GenerationKhilafah," implying that his fifth child was born in IS-controlled territory, a fact that is symbolic for those wishing to live under Sharia law.
Prior to his arrest, Rumaysah spoke to Channel 4 News, saying it was a basic right for citizens to migrate and follow their religious beliefs.
"I would love to live under the Islamic State, I'd love to live under the Shariah, and I hope that one day Britain gets to live under the Shariah as well," he said. "I think it's in the interests of the government to allow citizens in this country to migrate to places where they want to. It's better for them to do that than to allow them to go underground and off the radar."
Rumaysah was arrested in September as part of a group of nine men who were reportedly part of the banned group Al Muhajiroun.
Radical preacher Choudary said the arrests were "politically motivated," and defended his purported role in influencing people such as Rumaysah to support the jihadist cause.
"If warping someone's mind and not being on a rightful path is believing in the Sharia and wanting to bring your children up according to the Sharia, then I am very happy to warp everyone's mind," he told ITV News.
Rumaysah posted joyful condemnation of British authorities following his escape, saying he had "made a mockery" of the intelligence and surveillance services, calling them "shoddy."
Konika Dahr said she was primarily concerned for his safety.
"I don't know what's happened – it's just escalated into this tragedy. But it's still not too late I believe so I just want him to get in touch, we're all trying to reach out to him," she said.
"It's been very hard. But we just need to know he's OK and he can still come home."