#BlackFriday: Brits react to manic sales shopping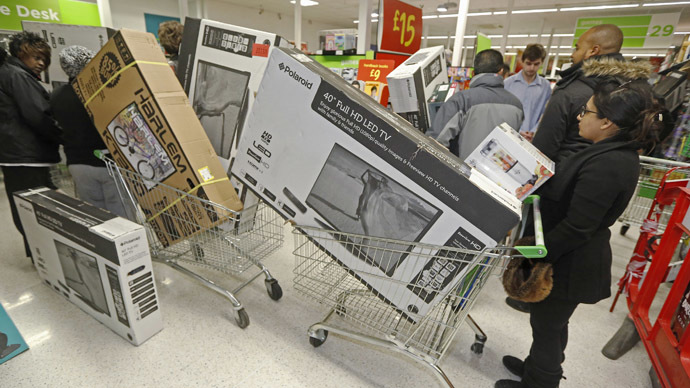 It isn't even December yet, but for thousands of Brits it's time to shop till you drop, as annual 'Black Friday' sales take place across the globe.
Black Friday is better known in America, and is largely considered to be the first "official" day of Christmas shopping.
Although there are no historical or religious rituals involved, it has quickly become tradition for shoppers to grab anything and everything in sight – and for news networks to film all of it.
'Black Friday' has now come to the UK. While for some it's a way to get their hands on a (cheaper) TV, or grab some designer threads, not everyone is thrilled.
Some shoppers turned up early. Really early!
Black Friday starts early for Maidstone gamers. #COD. Do we want/need this in the UK? Boxing Day sales?! pic.twitter.com/OFnxkfH6cl

— Aaron Bourne (@44RON_B) November 28, 2014
Others shoppers clashed…over television sets
Some stores got so rowdy that the police had to be called in....
Police called to these Ldn stores over 'black Friday' crowds - Yard: Tesco Edmonton, Tesco Willesden, Tesco Surrey Quays & Asda Capital Way

— Jules Mattsson (@julesmattsson) November 28, 2014
And while the masses shopped, others pontificated on what Black Friday meant for humanity.
Give me discounted crap, I don't care what it is. This my friends is why we are screwed as a species http://t.co/PJrcluGvXF#BlackFriday

— Kashaf Chaudhry (@Kashaf786) November 28, 2014
Wake up, pour scorn on black friday, despair of humanity, walk past Gap, everything half price, buy stuff.

— Simon Usborne (@susborne) November 28, 2014
I genuinely despair at people who get up in the middle of the night, go to Tesco & fight other people over £100 off a telly.#BlackFriday

— Laura Jones (@YICETOR) November 28, 2014
Google has another name for #BlackFriday..."a window of despair into the souls of our cheapskate nation". I think it's pretty fitting.

— Elisha (@ElishaAraiza) November 24, 2014
What a time to be alive!