'Whispering lies': Campaigners slam MI6 for UK citizen's illegal 13 yr Guantánamo detention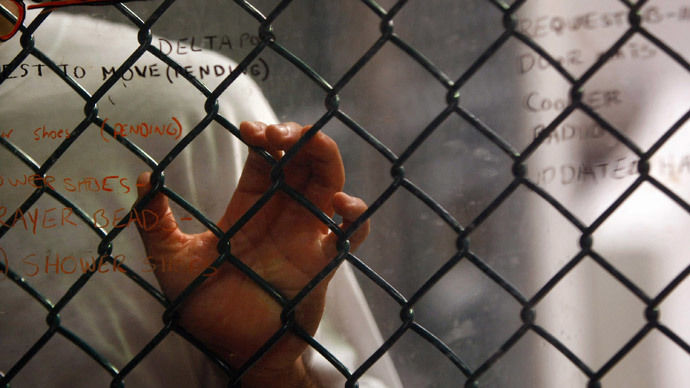 A campaign targeted at MI6 was launched on Monday to demand a British citizen imprisoned in Guantánamo Bay be released. He has been detained in the US prison in Cuba without charge for almost 13 years.
Politicians and prominent public figures posed with a giant inflatable model of Shaker Aamer outside Westminster on Monday, accusing British and American authorities of abandoning the detainee in deplorable conditions.
Clive Stafford-Smith, a human rights lawyer who represents Aamer, said the inflatable model of the 45-year-old was erected to face "the MI6 headquarters" in Vauxhall, London.
12 years of abuse and torture, we can't ignore this guys #WeStandWithShakerpic.twitter.com/3w7FZ1BhcI

— notyourisha (@__mayishaplease) November 24, 2014
Also a founder of UK charity Reprieve, Stafford-Smith told RT MI6 was targeted because the intelligence agency is largely responsible for Aamer's "continued detention."
The 'We Stand With Shaker' campaign, backed by British politicians, lawyers, campaigners and celebrities, coincides with the 13th anniversary of Aamer's capture in Afghanistan by bounty hunters.
Following his kidnapping, he was reportedly handed over to American soldiers who sent him on to the detention center in Cuba.
The 45-year-old husband and father of four has been selected for release by US authorities on two separate occasions – under President George W Bush seven years ago and under President Barak Obama in 2009. The British government have also lobbied for his release since 2007.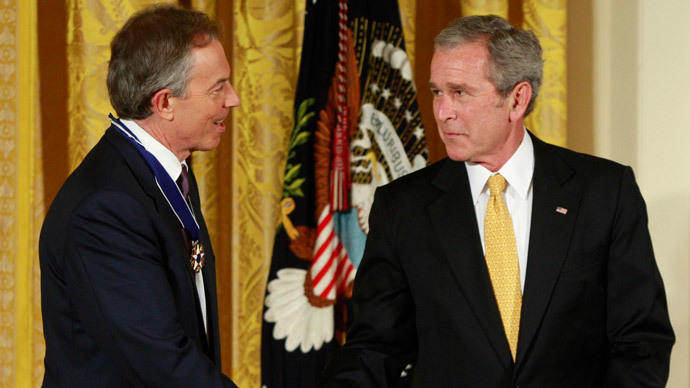 While Aamer's imprisonment was backed by former Prime Minister Tony Blair, his successor Gordon Brown demanded his release. Despite the fact David Cameron also repeatedly called for Aamer's release, he remains imprisoned without charge.
Prior to his fateful trip to Afghanistan, Aamer lived in the UK with his wife and children. Following a thirteen-year period of imprisonment without charge, his health is reportedly failing.
Aamer claims he travelled to Afghanistan on a humanitarian mission in 2001. While the US government believed his motives for travelling there were more sinister, they have never publically substantiated their theories.
Although damning evidence relating to Aamer's supposed criminality is yet to surface, the 45-year-old is still in jail. Critics warn his continued imprisonment in Guantánamo Bay defies logic, justice and decency.
Because Aamer is reportedly a highly intelligent individual, suggestions that UK and American intelligence officials may have delayed his release as a means of thwarting embarrassment and criticism are gaining momentum.
The campaign to release Shaker was officially launched at 12.30pm on Monday, precisely thirteen years after he was first captured in Afghanistan. As the action began, British celebrities such as Pink Floyd's Roger Waters, comedian Jeremy Hardy and Green Party MP Caroline Lucas collectively called for his release.
12 years of abuse and torture, we can't ignore this guys #WeStandWithShakerpic.twitter.com/3w7FZ1BhcI

— notyourisha (@__mayishaplease) November 24, 2014
An array of other celebrities, including journalist Nick Davies, actress Juliet Stevenson, campaigner Jemima Khan, and poet Benjamin Zephaniah are expected to pose with placards showing their support for Aamer in the coming days.
Green Party leader Caroline Lucas stressed on Monday Aamer's 13 year detention was "shocking" given the fact no charges have been leveled against him.
Launch of @StandWithShaker today with @CarolineLucas Clive Stafford smith & pink floyds roger waters pic.twitter.com/dYQiwtBHpZ

— Team Caroline (@teamcaroline_1) November 24, 2014
"And despite huge international support for his release, despite welcome public statements from our government about securing his release, and despite having been officially cleared for transfer out of Guantanamo in June 2007, Shaker is still not free," Lucas told the Huffington Post UK.
"Critically, the UK has been complicit in the abuses he has suffered and there are far too many unanswered questions about the UK's role. By rights Shaker is a free man, yet he remains illegally detained. It's time to bring him home."
Clive Stafford Smith, director of Reprieve and acting as Aamer's lawyer, said: "It is extraordinary that people get so upset at the media for falsehoods that they print, or privacy that they invade, when secret government agencies do far more damage to someone like Shaker by whispering lies about him to the United States and then resisting all efforts to resolve them in court."
Vital and immediate "@StandWithShaker: #WeStandWithShaker officially launched. Please support. Follow & RT pic.twitter.com/EFpGpCOviF"

— janetellis (@missjanetellis) November 24, 2014
George W Bush and Tony Blair claimed the so-called 'War on Terror' was a necessary means of defending democracy, liberty and justice. But critics stress US and UK authorities' deployment of torture, imprisonment without trial, and repeated breaches of international law signal the collapse of the very values they claim to defend.
Labour MP John Mc Donnell is due to host a parliamentary meeting to discuss Aamer's plight on Tuesday.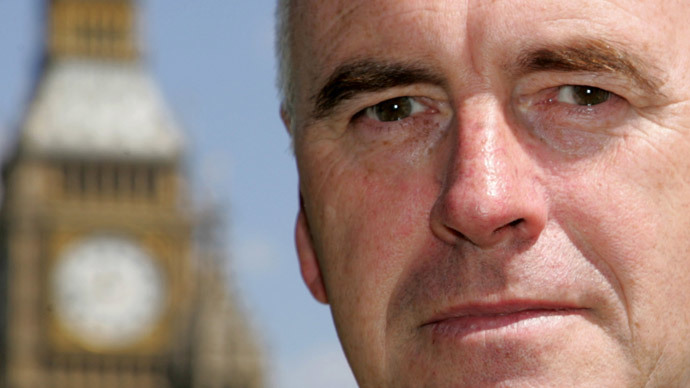 You can share this story on social media: