'Act of betrayal': Stormy pay dispute sparks 4-day defense workers' strike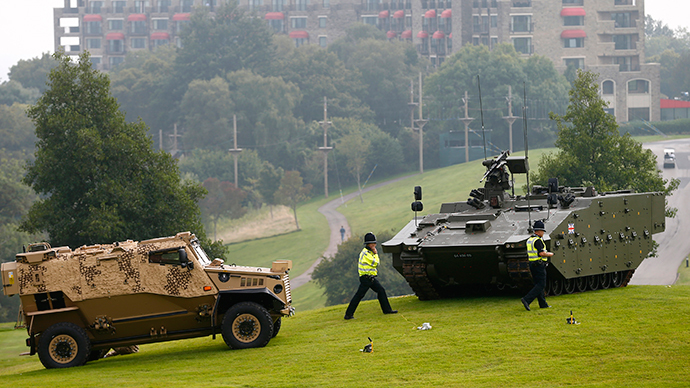 Eight-hundred UK defense workers began a four-day strike on Monday sparked by a heated pay dispute. Staff say their recent 1 percent rise, tabled during negotiations, amounts to a pay cut in real terms and an "act of betrayal."
Core sites likely to be affected by the strike – which will come to a close on Thursday night – are Bovington, Catterick, Colchester, Donnington, Stirling, and Warminster.
Members of Unite the Union, representing the Defence Support Group (DSG), abandoned talks on Sunday night in protest at a proposed salary increase which they warn is "non-pensionable."
Despite the DSG's unsatisfactory proposal, Unite's National Officer Mike McCarthy says the body has the financial resources to offer its workers a much more substantial increase in salary.
@ShropshireStar DSG staff on strike at Donnington, lots of support and very few crossing the picket line#fairpay4all pic.twitter.com/ukC1Htjvl1

— Phil Harris (@tigerphil800) November 17, 2014
Responsible for the maintenance, repair, and procurement of equipment for Britain's Ministry of Defence (MoD), the DSG is due to be privatized next year.
Last month, its workers held a 24-hour strike. With respect to the DSG's most recent phase of industrial action, the MoD says its operations will remain intact.
A spokesman for the MoD told the BBC that it is "disappointing" that Unite the Union pursued strike action despite a "proposed one percent pay rise." Such an increase in salary parallels that offered to the wider civil service, he emphasized.
Dear potential enemy; Want to invade? Better be quick :-) "Staff at MoD's Defence Support Group on strike over pay" http://t.co/1X2B0q4ZId

— Tim Cliffe (@TimCliffe) October 15, 2014
But Unite's McCarthy says the "insulting" pay rise and the "uncertain future" has sparked anger and concern among defence staff, in the face of the private sector sell-off scheduled for next year.
"With the sale of DSG to the private sector looming, our members want to take a decent rate of pay which can be consolidated for pension purposes to their new employer," he said.
Since the dispute surfaced, offers of solidarity and support have been offered by other unions and Unite members across government departments.
The privatization of the DSG was proposed under the coalition's defense review in 2010, but has since been plagued with issues, particularly the matter of intellectual property rights.