Bird Flu discovered on Yorkshire farm – health risk low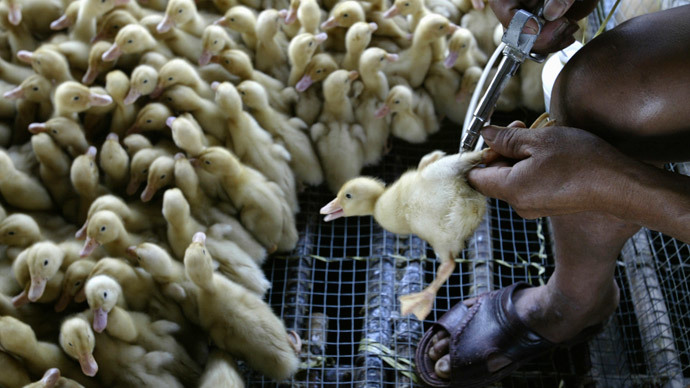 A strain of avian flu has been discovered on a British poultry farm, officials have confirmed. Experts maintain that the risk to public health is "very low."
The duck breeding farm in Yorkshire was found to be infected with a strain of the deadly disease on November 15.
Officials from the Department for Environment, Food and Rural Affairs (Defra) have not confirmed the exact strain, but have ruled out the H5N1 form, which is transmittable to humans.
The poultry farm, believed to be in the Driffield area of East Yorkshire, is culling their population of 6,000 ducks. A 10km exclusion zone has been put in place to halt any potential spread of the disease.
This is the first case of avian flu in the UK since an outbreak on an Oxfordshire chicken farm in 2008.
A Defra spokeswoman said that the strain was undergoing thorough laboratory testing, but stated, "the public health risk is very low and there is no risk to the food chain."
She further said that the UK has a "strong track record" of containing and eliminating previous outbreaks of bird flu.
This comes as the Netherlands discovered an outbreak of the highly contagious disease on Saturday. The Dutch government has placed a temporary ban on the transportation of poultry and eggs.
A spokesperson for Public Health England said they were "assisting Defra in the investigation of an avian flu outbreak at a duck breeding farm in Yorkshire."
"Based on what we know about this specific strain of avian influenza, the risk to human health in this case is considered extremely low," they added.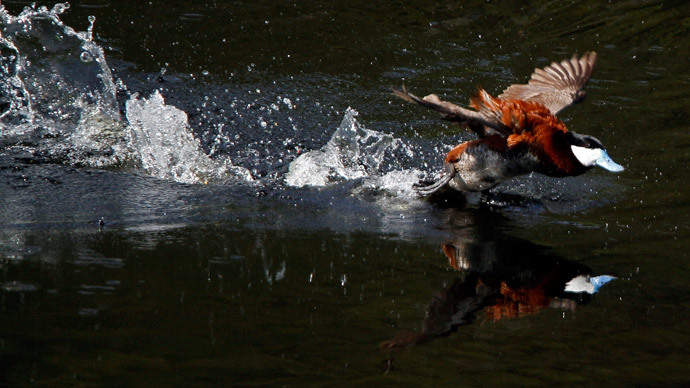 Nigel Gibbens, UK Chief Veterinary Officer, told the BBC it was likely that the source of the virus was the recently discovered outbreak in Germany and the Netherlands.
He added that the transmission of the disease could have been through the transportation of poultry, those working with birds, or the wild bird population themselves.
"There are a number of routes and we are looking to do as much as we can to find out the source and eliminate any further risks," he said.
Following the outbreak in the Netherlands, a 72-hour ban has been enforced on transporting poultry products. A total of 150,000 hens will be slaughtered in order to contain the virus.
The strain of bird flu was found at a battery poultry farm in the village of Hekendorp, in the central province of Utrecht, late on November 15, according to authorities.
Bird flu has caused "serious concern" during previous outbreaks. Normally strains of the virus are not contractible by humans, but two strains, H5N1 and H7N9, can be fatal.
According to the World Health Origination (WHO), the H5N1 virus has a 60-percent mortality rate in humans.
The H7N9 strain was discovered in China in 2013, and has since been responsible for dozens of deaths.