Top politicians wore feminist T-shirts made by women making less than $1 an hour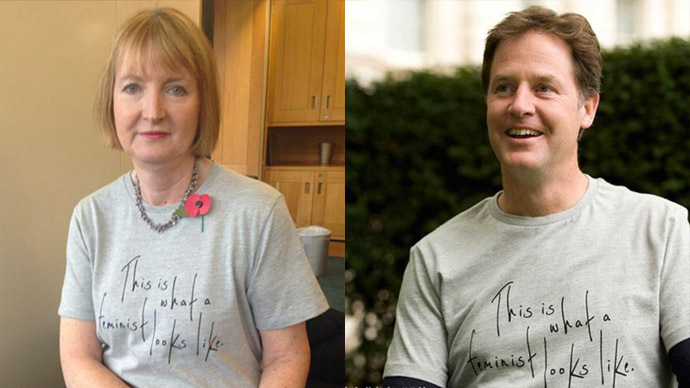 A company and charity behind feminist T-shirts worn by top UK politicians, such as Ed Miliband and Nick Clegg, are under pressure to explain why the women making them in Mauritius work in dire conditions for paltry wages and sleep 16 to a room.
The T-shirts featuring the slogan, 'This is what a feminist looks like' have been selling for £45 ($72) in the UK. However, the female workers producing the garments make just a fraction of their retail price, earning 62 pence ($1) an hour.
The allegations were made by the British newspaper, the Mail on Sunday, who sent a reporter and a photographer to the island in the Indian Ocean, where the T-shirts are made. They ascertained the workers earn just a quarter of the minimum wage in the country, and that each T-shirt costs just over £9 ($14) to make.
"#ELLEfeminism@thisiswhistles for @fawcettsociety T-shirt has landed! Get yours http://t.co/JMGlSgLwnHpic.twitter.com/oQqSBj1v5W" want!

— Emily Hughes (@thebelljarxo) October 20, 2014
Meanwhile, the workers have to endure degrading conditions, with 16 people sleeping in a dormitory-style room on bunk beds. They have to work 45 hours a week, though they can earn more money if they work overtime. They are under pressure to produce at least 50 T-shirts a day.
The Mail on Sunday did manage to speak to one worker, who was less than impressed with the living and working conditions that she and her colleagues have to put up with. "I have worked here for four years and I have not been able to see my son or husband in Bangladesh during all that time. We work very hard, sometimes 12- hour days, for not much money. I send all my money home and could not afford to fly back and see my family."
"How can this T-shirt be a symbol of feminism? These politicians say that they support equality for all, but we are not equal," she added.
What does a feminist look like @ELLEUK ? I support equality and choice – so yes, I'm a feminist. #ellefeminismpic.twitter.com/op2HsvGlef

— Nick Clegg (@nick_clegg) October 27, 2014
The attire has proved popular with the political elite in the UK, with lawmakers such as Deputy Prime Minister Nick Clegg and opposition Labour Party leader, Ed Miliband and Leader of the House of Commons Harriet Harman, not missing an opportunity to show their support for the feminist movement.
Read More: Bloody Elle: Cameron refuses to wear feminist t-shirt, Twitter reacts
Upon hearing of the scandal, a spokesman for the deputy prime minister said: "Nick Clegg had no idea where these T-shirts were being made and can only assume that the Fawcett Society were unaware of the origins, or they would not have asked him to wear it."
"He remains entirely supportive of efforts to ensure all women are treated as equals in this country and the world over."
Fayzal Ally Beegun, the president of the International Textile, Garment and Leather Workers Union, told the Mail on Sunday: "The workers in this factory are treated very poorly, and the fact that politicians in England are making a statement using these sweatshop T-shirts is appalling."
"They work very long hours and have no lives other than their work. They are on four-year contracts that mean they don't get to see their families in that time. What kind of existence is it when you are sharing your bedroom with 15 other women?" she added.
Our full response to allegations that Whistles/Fawcett feminist t-shirt may not have been ethically produced http://t.co/12sE5Ji4By

— Fawcett Society (@fawcettsociety) November 1, 2014
Eva Neitzert, the Deputy CEO of the Fawcett Society, which has been championing women's rights since 1866, said they have been concerned right from the start that the products produced in collaboration with ELLE magazine and the high street chain Whistles, should reach rigorous ethical standards.
"Upon receiving samples of the range at our offices in early October, we noted that the t-shirts had been produced in Mauritius, upon which we queried (via email) the ethical credentials of the Mauritian factory, and the fabric used," the charity said in a statement on its website.
"We were assured by Whistles that the Mauritian factory is a fully audited, socially and ethical compliant factory."
#Whistles Investigates Feminist T-Shirt Claims #HarrietHarman#EdMiliband#NickClegg... http://t.co/HVNTZjhk4opic.twitter.com/Mh3zEkjz9Z

— Feminism Trends (@Feminismolizer) November 2, 2014
The charity was quick to say they would have no hesitation in withdrawing the clothing line, if the allegations by the British publication proved to be true.
"If any concrete and verifiable evidence of mistreatment of the garment producers emerges, we will require Whistles to withdraw the range with immediate effect and donate part of the profits to an ethical trading campaigning body.
"While we wish to apologize to all those concerned who may have experienced adverse conditions, we remain confident that we took every practicable and reasonable step to ensure that the range would be ethically produced," the charity added.
You can share this story on social media: