UK-Israel trade hits record high despite Gaza carnage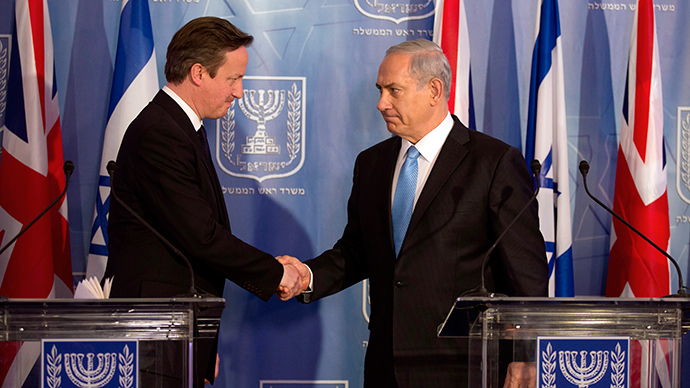 UK trade relations with Israel between January and August 2014 are reported to have reached record levels, despite worldwide public outrage against the IDF's recent military assault on Gaza.
At the height of Operation Protective Edge, stringent criticism of Israel's military actions was rife in Britain. Nevertheless, UK-Israel trade relations for the first half of 2014 increased by 28 percent compared with the same period in 2013, new statistics reveal.
Published by Israeli government body, the Central Bureau of Statistics, the figures indicate bilateral trade between Israel and the UK now stands at a record £2.5 billion. Meanwhile, exports from Israel to the UK have risen by almost 40 percent over the past twelve months, while the total value of British exports to the Middle Eastern state have surged by more than 14 percent.
These lucrative trade relations were reportedly bolstered by security firm G4S, drinks company SodaStream, cosmetics firm Ahava and tech firm Hewlet Packard amongst others.

The past twelve months also saw 37 acquisitions, mergers and IPOs (sale of a firm's stock by a private firm to the public) amongst UK firms, Israeli firms and Israeli companies floated in Britain.
UK-Israel military industrial complex
Britain's military industrial relations with Israel - enshrined by a strategic alliance born of cultural affiliation, economic ties and self-interest - also bolster trade between the nations.This special relationship is heightened by the UK government's annual investment of millions in battle-tested arms from Israeli firms.
A particularly lucrative field in in this context is drone technology. The UK's Ministry of Defence (MoD) is currently working with Israeli arms firm Elbit Systems on a one billion pound Watchkeeper program to develop drones modelled on Hermes unmanned aerial vehicles. Critics argue the MoD's collaboration with Elbit in this regard signals complicity in Israel's military pursuits.
The wider arms industry is also central to UK-Israel trade relations. London-based NGO, the Campaign Against the Arms Trade (CAAT), claims the British government annually grants up to £15 million worth of arms licenses to UK defense firms for the export of military equipment to Israel.Research conducted by the NGO also reveals approximately 44 defense companies broker UK arms exports to Israel. Since 2010 alone,British authorities are estimated by CAAT to have presided over the sale of £42 million worth of military wares to the Middle Eastern state.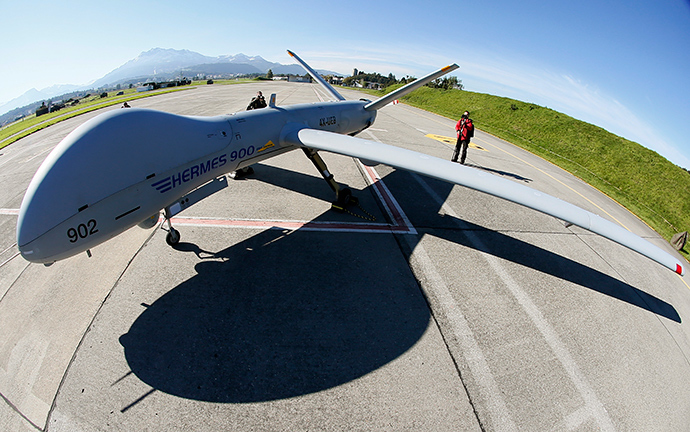 Israel's latest bombardment of the Gaza Strip included the targeting of hospitals, ambulances, schools, clinics, mosques, press buildings, and countless Palestinian homes. A top UN official called for an investigation into Israeli air strikes in the region, on the grounds such military action may have violated international law. Nevertheless, Britain remains Israel's largest export market after America.
A significant increase in bilateral trade between Israel and Britain has occurred despite a protracted and prominent campaign by the Boycott, Divest and Sanctions movement. By encouraging the West to boycott Israeli goods, the movement has sought to yield a widescale policy shift in the Occupied Palestinian Territories.
News of Britain and Israel's profitable trade relations has been sharply criticized by the Palestine Solidarity Campaign (PSC), which has been vocal in calling for the boycott of Israeli goods in the UK.
"The UK government's priority should not be trade with Israel, but rather the application of pressure on the Israeli government to comply with international law in its treatment of the Palestinians," PSC Campaigns Director Sarah Colborne told the IBTimes.
"Over 50 days in July and August, Israel killed more than 2,000 Palestinians in Gaza, 500 of them children. The assault on Gaza was an assault on a population which Israel has held under siege for seven years, and under occupation for more than four decades."
"Palestine Solidarity Campaign is calling on the UK government to implement an immediate arms embargo on Israel and an end to the two-way arms trade between the UK and Israel. Until Israel can comply with international law, we call for boycott, divestment and sanctions, not increased trade," Colborne added.
You can share this story on social media: