Irish police summoned over 'some sort of Arabic' flag that turned out to be… EU's
Published time: 29 Sep, 2014 20:38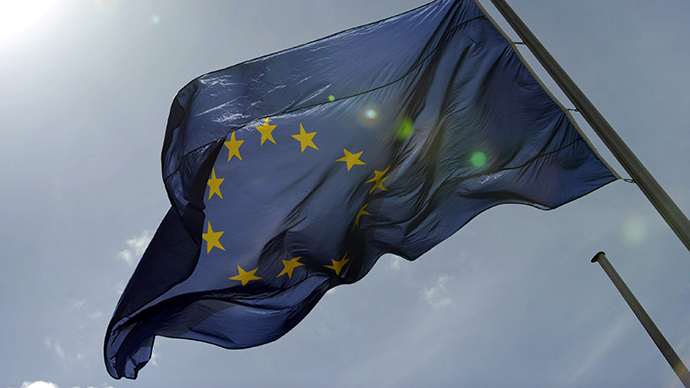 There are people in Northern Ireland for whom the EU flag looked so offensive and "sort of Arabic" that they called police to a house where the flag was waving. The homeowner just wanted to celebrate Europe's victory in a golf tournament.
In a literally false flag occurrence, two Police Service of Northern Ireland (PSNI) officers showed up as the homeowner was cleaning his house after a housewarming party that was dedicated to Europe's victory over the United States in golf's Ryder Cup.
"Right in shock here. Had a Ryder Cup party yesterday and just had the police round ... as apparently it's caused offence," the man posted on Facebook according to the BBC. "Apparently person who complained thought it was an Arabic flag."
He did not want to be identified in press, because of fears that Belfast's home-grown extremists might attack his house, AP said.
"Apparently person who complained thought it was an Arabic flag." http://t.co/CNCcAv74ag#RyderCup2014pic.twitter.com/kTt1NcJljA

— Luke Massey (@luke_mas) September 29, 2014
It is known that he lives in the golf star Rory McIlroy's home town of Holywood near Belfast.
"I was having a house-warming party and decided to put up the European flag for the Ryder Cup," the BBC cited the man.
He says that as the PSNI officers arrived they also did not seem to know what the flag was.
"They said there had been a complaint about it being some sort of Arabic flag," the man said. He had to explain to the police that it actually was the flag of the 28-nation union.
"I just laughed. In the end they were laughing too. It was crazy," the man said.
The PSNI confirmed in a statement that its officers "attended an address in the Woodlands" after a complaint "from a member of the public that a flag they believed to be offensive had been erected."
"Police attended and no offense was detected," the statement said.