​'Too upset and angry': Muslim teen barred from top London school for wearing veil quits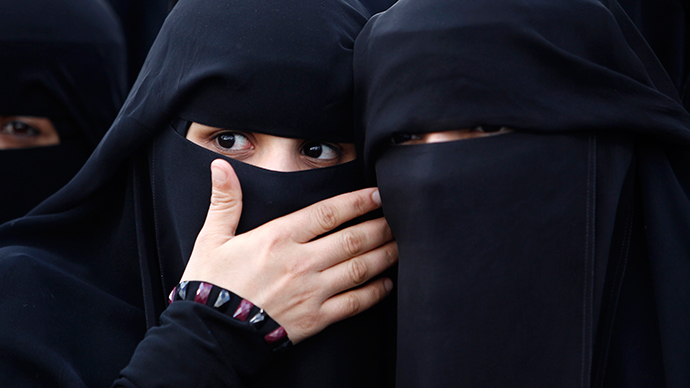 A Muslim teenager who had been banned from school for wearing an Islamic face veil said that she was too 'upset, hurt and angry' to go back, despite the support of cover a thousand of her fellow students.
The 16 year old, who was due to start her A level exams this year, was told by the prestigious Camden School for Girls that her decision to wear the Islamic veil went against the schools' dress code, and that staff would not be allowed to teach her unless she removed it.
Speaking to the London Evening Standard, the girl said that the face veil should not be seen as "un-British".
"I was born in Britain. I know perfect English, I enjoy doing the normal, typical things like drinking tea and eating biscuits. Britain claims to be multicultural, meaning they accept different kinds of people."
"To be honest a lot of people at the school wear inappropriate clothing — inappropriate as in very provocative and revealing clothing like extremely short shorts — so it didn't make sense that they were refusing me to wear the niqab" she said.
The girl will continue her studies at a different sixth form college, which is located further away from her home.
"I've been going to Camden for five years yet they were so dismissive but a school that I'd never even heard of were so ready to welcome me. There are even other students who wear the niqab" she said.
Camden School for Girls was named as one of the top 100 in the country by schools minister David Laws last year, and has a number of prominent alumni.
The schools' decision sparked an online petition entitled "Camden School for Girls: Stop the Islamophobia".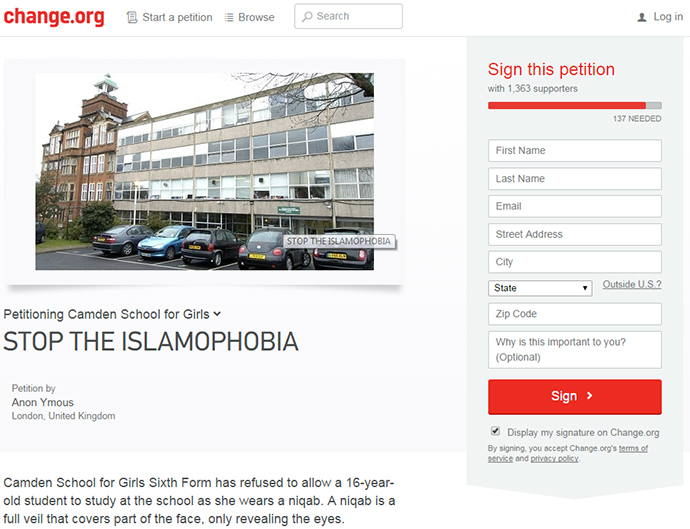 The petition accuses staff of hypocrisy, saying that they refused to acknowledge previous students who have chosen to wear the Islamic garment, and that management at the school did not want to reach a compromise.
"What we feel most strongly about is that there has been no discussion, no real attempt to find a middle ground, especially with the strong voices of students on this," the petition says, adding: "Why should a personal choice of deciding to wear religious dress affect their education?" it says.
Former pupils of the school have also signed the petition in solidarity with the girl, with some berating it for turning back on liberal values.
The petition has received more than 1,300 signatories since it started last week.
While Camden School has said it does not comment on individual students, the school in a statement issued on Wednesday, the school said it made the decision based on its "appearance policy".
"Teachers need to see a student's whole face in order to read the visual cues it provides. In addition, it is important for the safety and security of the school community to know who is on site, and to be able to see and identify individuals," the statement says.
While few Muslim women wear the niqab in the UK, it has become a more contentious topic in British politics as many Britons are uncomfortable with the garment, while some Muslims argue the Niqab is cultural, rather than religious dress.
However, some politicians have called for a 'national debate' on whether the niqab should be criminalised, citing that the garment is 'anti-social' and a potential risk to security.
You can share this story on social media: