​Over 1,000 students support London teen barred from school for wearing Islamic face veil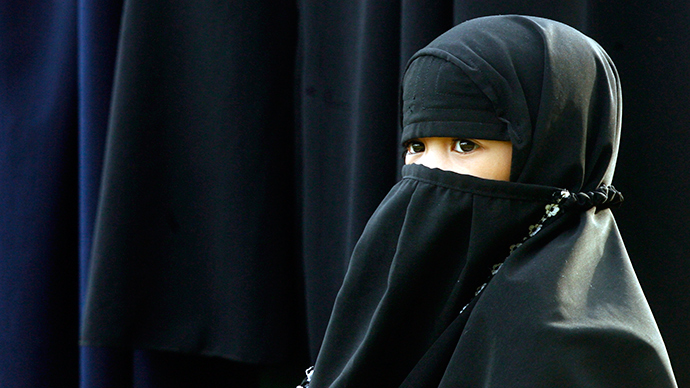 More than 1,000 UK students have rallied in support of a Muslim pupil, who was barred from attending her school because she wears an Islamic niqab that covers her face and body.
The pupil, who has not been named, was due to start her A-Level studies at the highly regarded Camden School for Girls, a school that she attended for the past five years. She only began wearing a face veil this year.
Students have signed a "Stop the Islamophobia"online petition, demanding the school authorities allow her to resume her studies.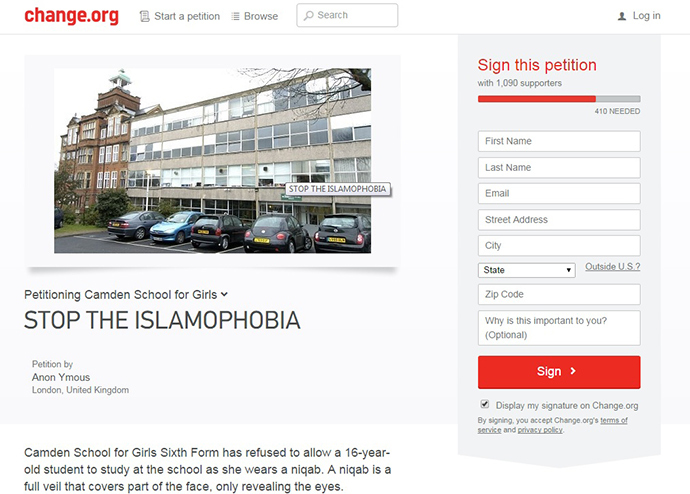 The petition also accuses staff of hypocrisy, saying that they refused to acknowledge previous students who have chosen to wear the Islamic garment, and that management at the school did not want to reach a compromise.
"What we feel most strongly about is that there has been no discussion, no real attempt to find a middle ground, especially with the strong voices of students on this," the petition says, adding: "Why should a personal choice of deciding to wear religious dress affect their education?"
Former students at the school have also sent messages of solidarity to the pupil, with some criticising Camden School for Girls for allegedly suppressing individual identity.
"I went to Camden School for Girls and many girls wore veils and were allowed to do so," said one online commenter, identified as Farhana Khanoum. "This school had a reputation. And now discriminating people that made their own choice to wear what they feel is utterly disgusting."
"I'm signing this because I feel that she should be able to wear what she wants!" Sharmin Rashid, another online commenter, posted.
Camden School for Girls was named as one of the top 100 in the country by schools minister David Laws last year, and has a number of prominent alumni.
In a statement, Camden School for Girls defended its actions, stating that the decision was an "educational one" and that the pupil needed to abide by the school's "appearance policy" it adopted several years ago.
"Teachers need to see a student's whole face in order to read the visual cues it provides. In addition, it is important for the safety and security of the school community to know who is on site, and to be able to see and identify individuals," the statement says.
Headteacher Elizabeth Kitcatt told the Telegraph that the school did not comment on individual cases, but that the pupil would remain barred until her clothing conformed to the school's rules.
While the Niqab is not illegal in the UK, government ministers have called for a debate on the issue before the next general election.
In 2013, Home Office minister Jeremy Browne called for a "national debate" about the Niqab being worn in public places such as schools and hospitals, while UKIP leader Nigel Farage has said face coverings "oppress women" and could pose threats to national security.
You can share this story on social media: