'Stick your license fee up your a***!' Pro-indy Scots denounce 'liar' BBC journo in protest
Pro-independence Scots rallied outside the BBC's Glasgow headquarters on Sunday to protest the public broadcaster's pro-union "bias" and demand the resignation of political editor Nick Robinson.
Waving Scottish flags and "Yes Scotland" banners, protesters chanted, "You can stick your license fee up your a***!" while banners read "Auntie Beeb, anti-democracy, anti-truth".
One giant banner read: "Sack Nick 'The Liar' Robinson, a totally corrupt journalist, these days typical of the British Biased Corporation."
Expensive banner. You should be flattered, @bbcnickrobinson >> RT @andrewneary: Sack Nick Robinson! #indyref#bbcbiaspic.twitter.com/aPwO67LAyW

— James Harvard (@harvardjames) September 14, 2014
Police said the rally attracted 1,000 protesters, but organizers claimed a higher turnout.
All police leave has been canceled for Thursday's referendum, when 3.5 million Scots are expected to cast their votes. Polling staff have been warned to expect "confrontational behaviour".
As the referendum date approaches, abuse, vandalism and threats of violence have allegedly accompanied both the "Yes" and "No" campaigns.
Let's hope all their cameras aren't faulty the day! #indyref#bbcbiaspic.twitter.com/uGN0CguFLu

— Indy News 2014 (@IndyNews2014) September 14, 2014
Pro-union "Better Together" chairman Alistair Darling has warned Scots not to be bullied into a "Yes" vote, and claimed he had felt "menaced" during the campaign.
"I have been involved in political campaigning for about 35 years and I have never seen anything like this before," Darling told journalists.
"I think we will win as I don't think Scotland is going to get bullied into accepting something it doesn't want."
Pro-government supporters meet again to complain about the media #indyref#bbcbiaspic.twitter.com/M373d6wiT5

— Paul Hutcheon (@paulhutcheon) September 14, 2014
The BBC faced accusations of anti-independence bias after Robinson produced a report that wrongly claimed Salmond had ignored his question during a heated press conference in Edinburgh last week.
Calling into question the impartiality of the license fee-funded broadcaster, the veteran BBC correspondent edited out Salmond's lengthy answer, in which the First Minister claimed the BBC had skewed facts and colluded with the Treasury to undermine the "Yes" campaign.
Salmond has repeated his allegation that the BBC is "absolutely" biased for the Union. The Scottish National Party (SNP) has proposed replacing BBC Scotland with a Scottish Broadcasting Service after independence.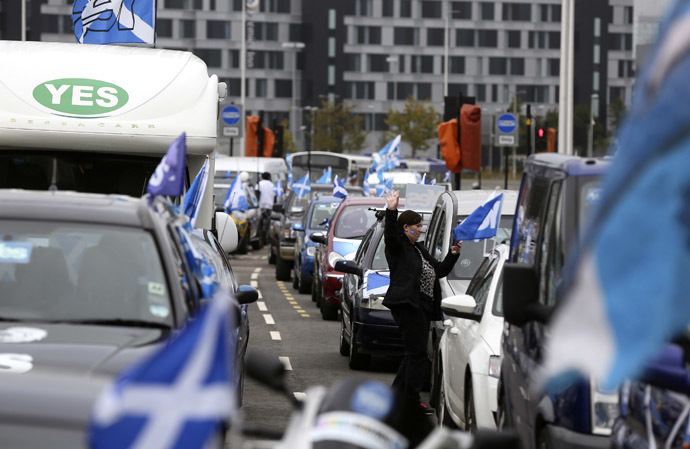 Meanwhile, a BBC spokesperson said: "We believe our coverage has been fair and impartial and has adhered fully to the requirements of our Editorial and Referendum Guidelines."
Despite the protest and ongoing criticism, Robinson has returned to Scotland to continue his coverage of the referendum.
BBC's Nick Robinson took to Twitter to defend himself, telling one critic to "Stop calling me a liar." He told the user, @Lithy_Lefty, to read the transcript of what Salmond said in response to his question.
@Lithy_Lefty Please send me the transcript of the answer to my question on trust. If you can't, stop calling me a liar

— Nick Robinson (@bbcnickrobinson) September 14, 2014
Robinson also said that attacks on his "integrity and professionalism" were unfair.
@stephenabarlow nice offer thanks but the hashtag #bbcbias attacks by integrity & professionalism and is unfair

— Nick Robinson (@bbcnickrobinson) September 14, 2014
With three days remaining until the vote, Prime Minister David Cameron has made his 10th and final campaign visit to Scotland to warn voters that there will be "no way back" if they choose to leave the UK, calling the vote "a once-and-for-all decision."
A poll for Survation, on behalf of the pro-union "Better Together" campaign, showed that Scottish support for independence has declined. Their findings claim 54 percent are now planning to support the union with the UK, with 46 percent voting for independence on September 18.
Previously, an opinion poll conducted by YouGov and The Sunday Times showed that 51 percent supported independence versus 49 percent of pro-union backers.
Both sides are claiming that they will win the referendum.
You can share this story on social media: