Poor management of £40bn in outsourced contracts exposes UK govt to fraud
Published time: 8 Sep, 2014 13:06
Edited time: 8 Sep, 2014 22:29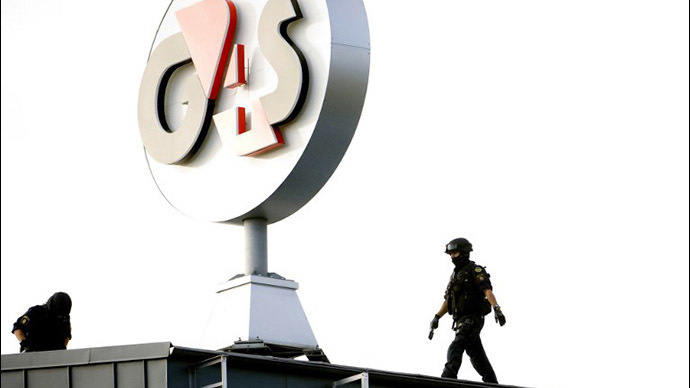 Inadequate management of outsourced public contracts worth £40bn has left the UK government vulnerable to widespread fraud and overcharging, according to research conducted by official government auditors.
Five such contracts are currently under investigation by the Serious Fraud Office (SFO) or UK police officials, a National Audit Office (NAO) report recently revealed.
As part of this research the NAO - which independently scrutinizes public spending for Britain's Parliament - examined the contract management policies of the Home Office and Ministry of Justice (MoJ).
Its report revealed that while the UK government claims to recognize the dangers of outsourcing public services, serious changes in the "culture of the civil service" and its capacity to "procure and manage commercial contracts" are paramount. The government spending watchdog's report, which had been backed by many MPs, was prompted by a scandal relating to G4S and Serco contracts that emerged last year.
In July 2013, a group of government ministers and senior officials announced substantial overcharging had occurred, particularly with respect to outsourced MoJ contracts with UK firms G4S and Serco. This over-billing, which related to electronic tagging services, had been ongoing since 2005. At the same time, the NAO and MoJ were approached by a whistleblower, who made separate allegations regarding G4S' operational procedures.
In tandem, these revelations sparked a series of contractual reviews across UK government departments. In the vast majority of contracts analyzed, weaknesses were apparent. Widespread management and administrative problems were uncovered, which spanned poor governance and inadequate record keeping.
The negative findings from these reviews subsequently provoked the NAO's investigation into UK government contract management policies. Regarding the Serco and G4S electronic monitoring deals, inadequate governance structures and a lack of "clearly defined roles and responsibilities" for managing contracts were key to overcharging, the NAO found.
Widespread complacency was also evident. While the MoJ detected billing issues in 2008, no substantive action was taken to remedy this situation. The MoJ's staff simply "did not hold themselves or teams accountable for contract management," the watchdog's research revealed.
'Too big to fail'
In an official statement, the Public Accounts Committee (PAC) chair Margaret Hodges said G4S and Serco's substantial over-billing of the MoJ on public service contracts was "an urgent wake-up call for the government's disastrous contract management."
She emphasized that in an ever-increasing climate of financialization, more of Britain's public services are outsourced and issued by private firms."These companies must be held to the same high standards as any government department, so that the public can have confidence they are delivering the quality of service we are entitled to expect."
But the official state response to overcharging by Serco and G4S has been muted, Hodge argues, because the British government is at the behest of powerful firms that are perceived as being "too big to fail."
While the PAC chair acknowledges the Cabinet Office and certain governmental departments have begun to make progress "in improving contract management," she warns that "much more still needs to be done."
"With so much taxpayers' money at stake, departments must urgently put an end to the 'out of sight, out of mind' mentality that has led them to be in this weakened position before even more taxpayers' money is wasted."
While the NAO's report notes UK government departments have taken the negative findings of recent reviews seriously and subsequent reforms introduced are making progress, it emphasizes further policy shifts must be implemented if taxpayers' interests are to be protected.
Of a sample of 60 central government contracts analyzed by NAO auditors, 34 were problematic. And of 73 contracts examined in terms of management practices, multiple aspects of many were found to be at "material risk" of overcharging. The watchdog's report indicated government departments still tend to rely on data supplied by outsourcing firms, rather than conducting their own appraisals. It also uncovered state departments' failure to appoint a person with the vital task of ensuring outsourcing firms are honoring contracts.
Serco have thus far repaid £70.5 million, while G4S have doled out £108.9 million across all contracts referred to UK authorities. But following NAO forensic analysis, auditors warn problems relating to potential overcharging could be much more comprehensive than current investigations indicate.
According to the NAO, adequate government systems to manage outsourced contracts must be established, and accountability for the delivery of outsourced services should rest with the companies paid to provide them.
Muted progress
In light of the watchdog's findings, Britain's Comptroller and Auditor General (C&AG), Sir Amyas Morse, echoed Hodges' belief that much remains to be done despite limited progress government reforms have wrought. Morse, who also serves as chief of the NAO, added, "the acid test will be whether the resources and effort needed for sustained improvement are carried through into the future performance of the departments in procuring and managing contracts."
The NAO reports to the Public Accounts Committee (PAC) - a select committee of the House of Commons. Reports produced by the watchdog are often reviewed by the PAC, and in certain cases investigated further. Prompted by the NAO's recent research, the first of two evidence hearings was conducted by the PAC on Monday afternoon. The Committee sought to investigate whether anything had changed with respect to the UK governments' G4S and Serco deals.
Throughout the course of the hearing, the PAC's chair Margaret Hodges interviewed several senior Serco and G4S officials. On the question of systematic overcharging for G4S' electronic tagging services, the firm's Regional President for the UK and Ireland Peter Neden said G4S wishes to "put right the errors of the past."Neden claimed the relevant contracts were"open to interpretations"due to ambiguous wording, and G4S officials made poor judgement in this regard which amounted to overcharging.
Neden told the PAC's Chair the SFO are currently investigating G4S' Manchester Magistrates Court contract, along with two other electronic monitoring contracts. But Hodges dismissed the SFO's efforts in this regard, expressing little faith in the body's efficiency. The SFO could "take forever" to investigate these commercial deals, she said.
Probed on its overcharging of UK government departments, Serco's Group Chief Executive Rupert Soames told Hodges the SFO are investigating one of the firm's electronic monitoring contracts, while the City of London police are examining another. When asked whether bonuses were issued to Serco senior managers who oversaw the electronic monitoring deals currently under investigation,Soamesinsisted such incentives were "not a driver"at the level this malpractice occurred.He added that revelations Serco officials had overcharged the UK government for its services had been an earth-shattering "disaster"for the firm.
Reflecting on G4S and Serco's controversial electronic tagging contracts, Hodges said it was"utterly extraordinary"the British government continued to negotiate with firms that were under SFO investigation for"fraudulently"billing state departments forservices they failed to provide.