British Royal Navy's HMS Prince of Wales to enter service
Published time: 5 Sep, 2014 19:13
Edited time: 6 Sep, 2014 16:15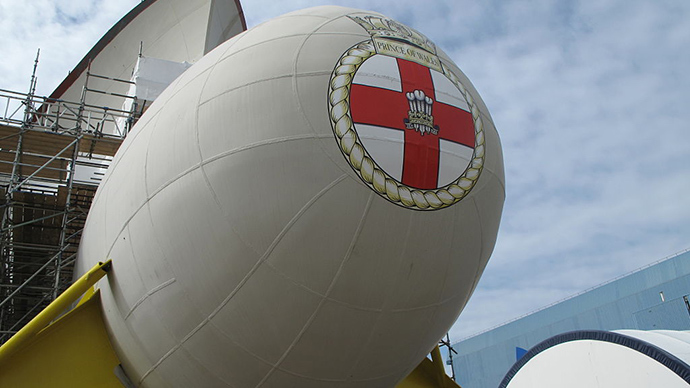 Aircraft carrier HMS Prince of Wales is to enter service and make sure Britain "always has one carrier available," UK Prime Minister David Cameron said. The fate of the ship has been in doubt ever since a defense review in 2010.
At the beginning of August, while it was being assembled at Rosyth dockyard near Edinburgh, it was still unclear what would happen to it, despite knowledge its sister ship, the aircraft carrier, HMS Queen Elizabeth, would go into service.
UK Prime Minister David Cameron, speaking at the NATO summit in Wales, said that utilizing the aircraft carrier would mean the UK "will always have one carrier available, 100 percent of the time."
"They are an investment in British security, British prosperity and our place in the world, transforming our ability to project power globally, whether independently or with our allies," he said.
David Cameron: 2nd UK Aircraft Carrier, Prince of Wales will come into service with the Royal Navy #NATOSummitUK

— NATO Wales 2014 (@NATOWales) September 5, 2014
Building commenced on the aircraft carrier in 2011 and it is expected to be ready in 2017. However, it will not be fully operational until 2023, the Ministry of Defense (MoD) reported. It will continue to be completed in Rosyth.
Some 6.2 billion pounds ($10.1 billion) was spent on the construction of the two new carriers – the idea of which was first proposed in 1998.
It was already under construction by BAE Systems and partner companies, but the government hadn't decided whether it would be used, dry docked or sold on. There had been speculation that one of the carriers could be sold after it was finished.
The 2009 deal on the new offshore patrol vessels (OPVs) postulated that the MoD would be liable to pay for any periods when no work was taking place at UK shipyards.
The announcement of HMS Prince of Wales entering service came as NATO pledged to make across-the-board increases in ever-decreasing defense budgets.
Cameron said that the UK was a rare case in that it spends more than two percent of its national income on defense.
"The cost of building the ships is funded from money that would have been used to pay for idle capacity, finance redundancies and meet the cost of industrial restructuring," the MoD said last November, when the plan for the new vessels was first announced.
However, four years of government cuts to defense spending to reduce the country's budget deficit has already started to cast doubt over the future of the industry in the country.